Plan to get up extra early this Sunday, Dec. 9, and head over to the Washington Jewish Film Festival to catch a one-time screening of this extraordinary, provocative documentary by Nitzan Gilady that chronicles the Herculean efforts by a group of gays to mount 2006's World Pride celebration in Jerusalem. At issue is a march through the city, which is vehemently opposed by both city and religious forces. "It's the spiritual rape of our city," says one. "The equivalent of moral terrorism."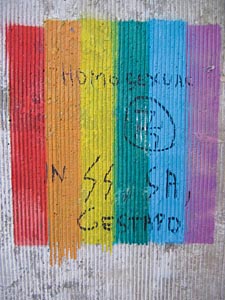 While Gilady does his best to remain balanced between the Open House for Pride & Tolerance, the Jerusalem-situated group spearheading the event, and the severely homophobic forces opposing the march, it's impossible for any rational human being not to be sympathetic to the GLBT men and women who merely want, for one day, to exhibit their pride. The searing hate and bigotry these Jerusalem residents encounter — whether they be Israeli or Palestinian — is shocking, and it goes beyond simple phone-in death threats. In one unforgettable, harrowing scene, a gang of ultra-Orthodox men surround a car containing a gay City Council member and pound threateningly on the hood, demanding he emerge from the vehicle. You have no doubt that these religious men would reduce him to a bloody pulp had they the chance. The chilling scene is superseded later in the film as a huge mob of ultra-Orthodox men protest the march by rioting in the streets, setting bonfires ablaze.
JERUSALEM IS PROUD TO PRESENT
Not Rated
80 Minutes
At the
Washington Jewish Film Festival
Sunday, Dec. 9
12:30 p.m.
$10
800-494-8497
www.wjff.org
A side-story of a Palestinian drag queen is even more troubling — as the young man is captured by Hamas, tortured and ordered to leave the country or "become a martyr." Then there is the horrific footage of Adam Russo, young survivor of a stabbing at a previous gay pride march held in Jerusalem, and Yehuda Levin's borderline psychotic rationalization of the event that you have to hear to believe. Levin, a provocateur who represents the Rabbinical Alliance of America, pops up throughout the film. The revolting vitriol he vomits forth is on par with that of Jerry Falwell or Fred Phelps.
The documentary — remarkably, brilliantly constructed — has profound emotional resonance. After experiencing it, you'll never again take our own Capitol Pride march for granted.
One showing only, Sunday, Dec. 9, at 12:30 p.m., at the Goldman Theater in the DCJCC on 16th and Q Streets NW. Tickets are $10. Call 800-494-8497. Visit www.wjff.org for the full Washington Jewish Film Festival lineup or to purchase tickets online.