When Steve Rucker and his partner, Adam Collick, met their teenage "daughter" for the first time, they were relieved to find she spoke English.
"It was slightly awkward," says Rucker, a former resident of Hyattsville, Md., now living in Burlington, Vt., recalling the couple's first encounter with Trine, a foreign-exchange student from Norway. Trine was 17 at the time.
"It was a little awkward to meet a complete stranger who is going to be your child for the next year."
Rucker, 40, a nurse, and Collick, a 41-year-old chef for the White House who still resides in Hyattsville, decided to serve as hosts to Trine through the American Field Service Intercultural Programs (AFS), a foreign-exchange organization, more than 20 years after Rucker's own student experience with AFS. In 1984, he had traveled to Venezuela, where he lived for a year with a local family, attending high school.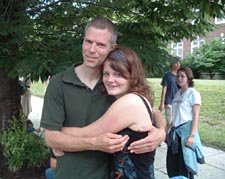 Rucker and Tjetland
"I saw an opportunity to give back some of the gifts that I got from that experience," he says.
While familiar with AFS and its services, Collick says there were many factors to consider in becoming host parents, and admits that he was initially reluctant to sign on.
"It's hard to know what your responsibilities are going to be," he says. "It's just like having your own kid, but an older one. You've pretty much got to do everything for them."
One factor that was never an issue, the couple insists, was being gay.
"It seemed a little surprising to me," Rucker admits. "I was pleased — I mean this is Washington, D.C., and you expect some of that — but I was very pleased that [AFS] had a very enlightened attitude toward gay people working with teenagers, which can be sort of a touchy issue sometimes. God knows why, but for some people it is."
Fred Hays, coordinator for AFS' Capital Area Team serving the metropolitan D.C. area, says being a gay host parent is not an issue because the organization celebrates diversity.
"We recognize that families come in all stripes, everywhere," Hays says. "Kids come in all stripes too, and we certainly have gay kids. Not that gay kids should necessarily be with gay parents, but I think all kids should see the variety, the excitement of adults and the way different people are. It also dispels, I hope, the notions people have about kids and sexuality, and being with adults who might be gay."
Hays says he is often asked if it may be more appropriate to have gay male couples host girls while lesbians host boys.
"I say, 'No, not necessarily.' I don't expect my parents to have sex with the kids. Who do you put a heterosexual father with? A boy? Do they not have daughters?"
Over the past five years, the Capital Area Team, which usually organizes 50 host homes annually for students from all around the world, has had one gay host home each year, according to Chana Hays, Fred Hays' wife, who also serves as coordinator with the group.
"I would love to see more lesbian and gay couples become host families, because I don't see any reason why they should be deprived of this wonderful experience just because they're not expected — by some — to be parents," she says. "The affection that spreads from your home to theirs, from your country to theirs, is unparalleled. And I always get the same line [when asking people about their AFS experience]: 'It changed my life."'
Fred Hays points out that singles — gay and straight — are also encouraged to host international students. An interview and evaluation process, which includes inspection of the home where the student would be staying, is part of the application process.
There is, however, one difference in finalizing an arrangement with gay hosts.
"In the case of gay parents, it is a fact that we do offer the student the chance to accept placement with a gay family," says Chana Hays. "We usually don't do that with other host families, but in the case of gay parents, we want to make sure everyone feels comfortable, including the parents."
To further ensure smooth sailing throughout the year in which a student stays at a host home, the Council on Standards for International Educational Travel, which regulates exchange programs in the United States, provides mentors for the students and the host parents.
"They want someone to be in contact with the student and parents on a monthly basis just to monitor their experience to ensure that the students and the parents have the best possible experience," Chana Hays explains.
Two years after welcoming Trine into their home, Collick, who has visited the girl in Norway since her departure from the United States, says he views her as his daughter and speaks to her by phone every Thursday.
While Collick recommends the AFS experience to other gay and lesbian friends, he admits that it's not for everyone.
"If you're a person who likes to party and all that, you can't have a foreign-exchange student, because you have to spend time with them. And you [have to] make them feel welcome."
For those who do fit the criteria, like Rucker and Collick, it's a learning experience.
"Because I'd never been a parent, I learned a lot about parenting," Rucker says. "I learned how parents manage to have food on the table when their kids come home from school and things like that. It's things you don't necessarily think about when you don't have kids, but when you do, you just do it."
For more information about becoming a host parent, visit www.usa.afs.org.