Whitman-Walker Clinic announced Jan. 10 that it will layoff more than 10 percent of its workforce as part of a "restructuring" of the long-time GLBT and HIV/AIDS health organization. Donald Blanchon, CEO of the clinic, called a press conference to announce the changes, which included a sweeping outline of the clinic's aims in the coming year, ranging from outreach to electronic medical records to finances.
"I'm pleased to announce our 2008 priorities to fulfill our vision as the region's preeminent health center treating the LGBT community and people living with HIV/AIDS," Blanchon told the small contingent of reporters assembled at the clinic's Lesbian Services Program offices at 1810 14th St. NW, emphasizing the good, rather than the layoffs, which have already begun.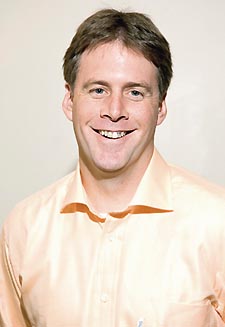 Blanchon
File photo by Todd Franson
Blanchon said he could not yet elaborate on the number of employees who will be let go in this restructuring, though he did offer a ballpark figure of "upwards of 10 percent" of the clinic's current staff of roughly 240 employees, 220 full-time. "It's not a single-digit" percentage, he said.
Cornelius Baker, who headed the clinic from 2000 through 2004, says that any effort to streamline makes sense.
"Efficiency, while maintaining quality, is certainly the name of the game," said Baker. "Every effort to do that should be encouraged."
Baker noted that layoffs are unfortunate for all concerned, no matter the circumstances: "No matter where you work, if you feel loyalty to an organization you want that loyalty returned. No one wants a pink slip, and no one wants to give a pink slip. It's never easy, either for management or staff."
But while the clinic's plan for restructuring, "to modernize services," among other reasons, means there will be layoffs, it also includes planned hiring in areas of clinical care and outreach.
"In order to become a high-quality community health center, we need a different workforce than what we've had," said Blanchon. "Historically, we've been an organization that's been driven by grants — funding has been largely grants — and that leads you down a certain path of how you do your staffing. We need to be much more of a community-health organization. That means more physicians, more mental-health practitioners, more health educators, more nurses, more addiction counselors. You'll see the workforce change. There will be some new positions, there will be some reassignments and there will be some layoffs."
Blanchon also took the opportunity Jan. 10 to announce the hiring of Dr. Raymond Martins as WWC's chief medical officer, effective late February, as well as contracting the BDO Seidman company to manage the clinic's accounting.
"We will have some staffing changes in financial management…. We need to be much more open and transparent," Blanchon said, referring to the clinic's finances. In 2005, prior to his joining WWC, the clinic suffered a nearly catastrophic, $1 million shortfall in its accounting. By comparison, Blanchon noted, it looks as though the clinic will have ended 2007 with a shortfall of about $300,000, a 1 to 2 percent operating loss.
In other areas, Blanchon promised that the clinic will respond to the D.C. Department of Health's November report regarding HIV/AIDS data, as well as the clinic's own observations, with the launch of "Project R.E.D." The acronym for this new, "edgier" HIV education and awareness campaign stands for "Reach. Educate. Decrease." It will be aimed at heterosexual, African-American women, ages 24-35; men who have sex with men, ages 18-24; heterosexual, African-American men younger than 40; and single men who have sex with men of color.
"Another component of our HIV prevention will be much stronger grassroots- and community-focused — on street corners, at bars at other establishments, and at various high-risk neighborhoods in the District," Blanchon said. "We will work closely with community organizations like PreventionWorks! to do work around needle exchange, and other types of activity. We will also be using our mobile vans and getting into neighborhoods all across the region with a much broader message around education."
Ron Simmons executive director of Us Helping Us, one of several community organizations fighting HIV/AIDS, and mentioned by Blanchon as he listed groups that could be part of the promised increased collaboration, told Metro Weekly on Tuesday that the two entities already refer patients to one another.
"To me, [the relationship is] fine the way it is now," he said. If there was room for improvement, he added, it would be in the clinic's competition for some of the smaller grants UHU and other grassroots organizations need.
"The only criticism I may have of the clinic is that they tend to go for all the money and leave some of the small clinics struggling," he said. "A small grant like $50,000 — do you really need to go for it?"
Of the "five major areas" Blanchon addressed — HIV prevention, clinical care, operations, financial management and strategic issues — GLBT issues fell under clinical care. He listed three specific areas of focus: a new crystal methamphetamine addiction program for gay men; a partnership with George Washington University, using mammogram vans in response to increased breast cancer rates; and expanded services in the transgender health program.
Though Blanchon did not initially mention the Latino community, to which HIV outreach has been previously listed as part of the clinic's GLBT health services, when asked he said services here, too, would be improved.
"We have expanded in 2007 and will continue to work particularly around a staffing model…to have our staff be bilingual, to be culturally competent in Latino, Latina health," he assured. "That is a priority for us."