The D.C. metro area is many things, but inaccessible is not one of them. And lucky for us during these ugly, gray weeks of winter, accessibility is a two-way street. With three airports and more than a dozen airlines to choose from, finding respite from winter is easy as one, two, three — or 3,000, as the case may be.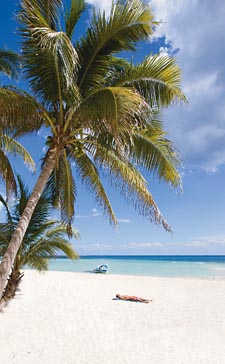 Cancun
USA 3000 is a good starting point when looking at which airlines offer Washington-area residents nonstop options to sun-drenched climes. This discount airline flies four vacation-minded flights out of Baltimore/Washington Thurgood International Airport (BWI): Melbourne, Fla.; La Ramona and Punta Cana in the Dominican Republic; and to increasingly gay Cancun in Mexico. While Cancun, at nearly four hours away, stretches the definition of what might be a quick getaway, there are plenty of options within a more manageable two or three hours.
Continuing at BWI, AirTran Airways and Southwest Airlines fly nonstop to Fort Lauderdale — where a homophobic mayor cannot seem to curtail this town's gay vibe — Fort Myers, Orlando, Tampa and West Palm Beach. AirTran also offers Miami and Sarasota. American Airlines, scoring 100 percent on the Human Rights Campaign's Corporate Equality Index six years running, makes the Miami haul, too, which runs about two and a half hours. American also offers San Juan, P.R., in about three and a half hours. For a truly adventurous — if not foolhardy — hot shot from BWI, there's always Air Jamaica's "Lovebird Hospitality" to Montego Bay in about four hours, if that island nation's apparent homophobia doesn't scare you away.
Moving over to D.C. proper's phenomenally convenient Ronald Reagan Washington National Airport (DCA), US Airways is the big player for sun seekers, offering nonstop flights to Fort Lauderdale, Fort Myers, Orlando, Sarasota, Tampa, West Palm Beach and Nassau in the Bahamas. Spirit Airlines joins US Airways on the run to Fort Lauderdale, while AirTran also hits Fort Myers. The lock on the DCA-Miami (read: South Beach) nonstop goes to American. And with the farthest Florida flight taking only about two and a half hours, it may be an easier destination than summertime Rehoboth.
The third leg in the area's airport triumvirate is Dulles International Airport (IAD), named for the consummate Cold Warrior John Foster Dulles who served as President Dwight Eisenhower's secretary of state from 1953 to 1959. A little tropical jaunt from the airport that now bears his name might have done wonders for his chilly disposition.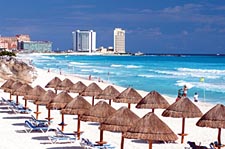 Today, those options would include a bounty from United Airlines, which makes IAD one of its few "hubs." From IAD, United flies nonstop to nearby Fort Lauderdale, Miami, Orlando, Tampa and West Palm Beach. Southwest joins United with flights to Orlando and Tampa, with jetBlue Airways — the first U.S. airline to include anti-discrimination protection for gender identity when it began in 1999 — heading to Fort Lauderdale and Orlando. AirTran also offers IAD-Orlando nonstop service.
Pushing the convenience envelope a bit, IAD also sees United hitting Cancun, Punta Cana, Montego Bay, St. Maarten, St. Thomas and, along with American, San Juan, all in three to four hours.
In short, if there's no guarantee gray skies are going to clear up, there are plenty of options for sun-worshipping Washingtonians to choose from.