Last year was a busy one for the Mayor's Office of GLBT Affairs, headed by Christopher Dyer and providing five basic services to D.C.'s GLBT community: community outreach, public policy development and advocacy, public education, grant identification/capacity building, and training and facilitation.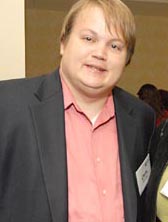 Chris Dyer at SMYAL's 2007 Brunch [file photo]
(Photo by Ward Morrison)
According to a five-page annual report, the office directly contacted 2,500 area residents in 2007 by participating in more than 130 community meetings. Some other highlights for 2007 were collaborating with the Metropolitan Police Department regarding treatment of transgender prisoners; working with the deputy mayor of education to address bullying of GLBT students; and convening a GLBT economic summit that drew more than 150 participants.
The report also points to a survey conducted by the office online and at the 2007 Black Pride and Capital Pride events, examining community awareness of the office. On a scale of 1 to 5 — with 1 being "not aware" and 5 being "very aware" — the office rated a 3.3.
To view the report, visit http://lgbt.dc.gov/