In just a few months, Rent will take its final Broadway bows. The rock remix of Puccini's opera drove some to camp out for days on sidewalks, desperate to live "La Vie Bohème" over and over again. Others were driven to despair over a musical theater where the company wore visible microphones and the aggravating three hundred twenty five thousand six hundred minutes the anthem "Seasons of Love" remained in the head of any and everyone who heard it.
Regardless of how one ultimately feels about the late Jonathan Larson's musical, the reality is that the show changed how an entire generation thought about musical theater. Or, as shows like Spring Awakening might have us think of it, musical theatrrrr. Shows where the music is a little tough, the voices growl a little more and the electric guitarist is the hardest working musician in the pit. Musicals where the matinee seems out of place because to exit in the daylight just doesn't feel right. Musical theatrrrr is where the finale feels best followed by a pitcher of beer or something involving tequila.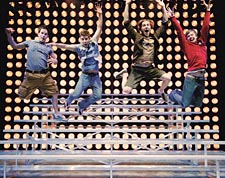 Glory Days
Nick Blaemire and James Gardiner's Glory Days, now having its world premiere run at Signature Theatre's The Max, is one of those shows. And while it is impossible to ignore the shades of Rent that color some of the music, Glory Days is able to stand on its own legs. This is not a big message show. It is about something very simple, very tangible and absolutely universal.
In other words, this is Rent without the aching social conscious and the operatic tragedy but with recognizable self-consciousness and personal disappointment. Rent with a bracing injection of male teenage hormones. Rent without the entrance of the previously unseen and never to be seen again gospel singer with the killer pipes who comes in to make sure no one thinks of bailing at intermission.
One year after high school graduation four friends come together on the football field bleachers of their alma mater to reminisce, reconnect and drink really cheap beer. There's the thoughtful mainstay of the group Will (Steven Booth), the sarcastic Army brat Skip (Adam Halpin), the frat boy Andy (Andrew C. Call) and the group's little brother Jack (Jesse JP Johnson).
But as the group gathers to relive their former glory days, none have stopped to consider just how much might have changed during all those minutes that make up the year since they were last together.
For their world premiere, Blaemire and Gardiner have been given the opportunity to have their work presented by a phenomenal cast. Booth, Call, Halpin and Johnson are able to gracefully blend teenage posturing with equally athletic voices like some bright mix of boy band and boy's choir. Each castmember is given his own opportunity to step to the front of the stage and shine and it is a chance none take for granted. Particularly outstanding is Johnson in the lovely "Open Road" and Halpin in what is arguably the show's truest anti-Rent song, "Generation Apathy."
The music really is the story of Glory Days. An exciting and utterly infectious blend of rock and roll ("We've Got Girls"), classic musical theater pieces ("Are You Ready") and coffee-house tinged ballads ("The Thing About Andy"), Blaemire's music and lyrics hint at a young man with a vast songbook still inside him. The evening's show-stopping number, "Forget About It," demonstrates a skill and complexity that is the mark of a brilliant talent.
Falling shorter is Gardiner's book. While certainly graced with elements of humor and wonderful dialogue, there is a predictability to the plot. The writer's ability is evident but overshadowed by a familiar storyline.
There are also issues with James Kronzer's set. It's certainly not that the eight-time Helen Hayes award winner has lost his touch, it's that his wonderful design seems to physically overwhelm Signature's performance space. Left with little room to maneuver, the cast's movements often feel restricted and repetitive.
Despite that obstacle, the vibrant energy of Glory Days seems almost impossible to contain. It's an evening with remarkable young talent that seems to point to a very bright future for musical theatrrr. Break out the shot glasses.