Although the Metropolitan Police Department would not release information regarding what authorities described as "homophobic graffiti" found inside a restroom at the Fifth District Police Station on Thursday, Jan. 31, they did offer a lengthy statement issued by Police Chief Cathy L. Lanier on Friday, Feb. 1.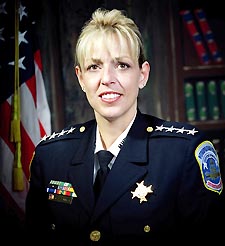 Lanier
In the release Lanier stated that the graffiti "centered on a member's sexual orientation," before adding that when the person responsible for the graffiti is caught, she will impose "the most serious penalty for this malicious act of hate."
"We have come too far this past year building trust within the department, and within the community, to allow a hateful member to set us back," Lanier said in the release.
"I have spent this entire year doing everything in my power to reinvigorate the feeling of pride and professionalism that goes along with being a member of this great department, and it is astonishing to me that any member would disrespect another officer in this manner."
MPD spokesperson Traci Hughes said on Feb. 4 that she could not yet comment on the text of the graffiti or whether or not it implied that it was written by an officer or a visitor. Hughes said the information "pertains to an open investigation."
Hughes declined to comment on whether this was a rarity or common occurrence at the 1805 Bladensburg Road NE station.
During the past year, Lanier has worked with community groups, the general public and Sgt. Brett Parson in formulating a plan to expand the influence of the city's Gay and Lesbian Liaison Unit beyond its Dupont Circle headquarters.
Currently, Parson is in charge of the MPD's Special Liaison Unit, which in addition to the GLLU includes the Latino Liaison Unit (LLU), Asian Liaison Unit (ALU) and the Deaf and Hard of Hearing Unit (DHHU). Parson, who is gay, formerly headed the GLLU.
"All members of this department put their lives on the line every day and I will not tolerate any member treating another police professional with disrespect," Lanier added in the release. "All of you should be personally affronted that another member of this department would think that it is acceptable to conduct them self in this manner.
"Remember, we are quickly advancing to the best department in the Nation. We cannot have members in our ranks that think and act with such insolence."