To study Janet Jackson's new album, Discipline, is an exercise in bafflement. The album features the best music Jackson has released in nearly a decade, and it's certainly her best album since 2001's All For You. But why does she continue to believe the songs on her albums should be connected through inane interludes? And why does she choose to sully otherwise strong songs with embarrassing lyrics? (Why Jackson thought it was amusing — or appropriate — to brag about her "swag " being as heavy as a "first-day period " on first single "Feedback " boggles the mind.) A bit more discipline could have helped Jackson avoid the gross similes, mixed metaphors and childish, disturbing sentiments peppered throughout.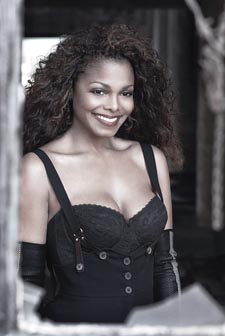 Undisciplined: Jackson
The sentiments weren't even Jackson's to begin with though. For the first time in her career, Jackson had nothing to do with writing the lyrics. She didn't co-write any of the music either. She only co-wrote one interlude, all 11 seconds of the silly "4 Words. " Also, for the first time her longtime production partners Jimmy Jam and Terry Lewis are absent from Discipline. Instead, Jackson hired several of today's hottest R&B producers — including her fiancé and her label bigwig Jermaine Dupri, who co-executive produced the album with her and co-produced many of its songs. Even if she worked less on this album than previous efforts, he worked more — or at least, more effectively. This is night and day better than his last collaboration with Jackson, 2006's pathetic 20 Y.O.
Discipline is a joy to listen to if you don't pay too much attention to its lyrics. In other words, be undisciplined and you'll take to it just fine. It starts off with a bang and just keeps firing until nearly halfway through. There are two fetching Rodney "Dark Child " Jerkins' tracks, which do a noteworthy job of acting out the titular theme, from the distorted sounds in "Feedback " to the controlled rises and falls plus twists and turns of "Rollercoaster. " There's also a cute track with Missy Elliott ( "The 1 "), and another masterful smooth and sweet classic in the mold of "That's the Way Love Goes. " "Can't Be Good " comes from one of current R&B's newest hotshots, Shaffer "Ne-Yo " Smith, who also wrote Jackson's charming second single "Rock With U. "
The producers behind Rihanna's huge "Umbrella " team up to create a song that must have made Dupri uncomfortable. Christopher "Tricky " Stewart and Terius "The-Dream " Nash's "Greatest X " is about Janet's lingering thoughts about the ex she misses the most. "I can't close my eyes without a day with you in my dreams, " Jackson sings about her ex, confessing to calling his number just "to hear you breathe. " That's followed by a ridiculous interlude in which Jackson has a two-way dialogue with her computer, "Kyoko, " who somehow senses that she still cares for her best ex.
Jackson begs for punishment on the uninspiring title track. She says she's done things she knows she shouldn't have, so she asks "daddy " to punish her to the point of tears and fear: "Don't hold back… Make me cry… I want you to take your time/I'm scared… Take out your frustrations on me. " Jackson seems to be taking this passion for discipline a bit too far.
---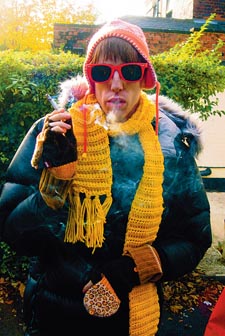 Atlas Sound
It's hard to know what to make of Bradford Cox. Recording as Atlas Sound, he opens his debut solo album with an endearing 7-year-old boy improvising "A Ghost Story, " and then follows that with a dirge-like track on which Cox repeatedly cries, "I don't know why. "
And that's only the start of the mystery of why the long but masterfully titled album, Let The Blind Lead Those Who Can See But Cannot Feel, captivates you. As the dramatic lead singer of the Atlanta-based indie-band Deerhunter, the 26-year-old Cox is an indie-rock darling, particularly fawned over by indie-bible Pitchfork Media as well as past touring partners Yeah Yeah Yeahs and the Fiery Furnaces. As a solo artist his sound is more DIY experimental, and it often conjures thought of Radiohead or any number of other British acts who merge rock and electronica. The focus is more on intriguing you with sounds than impressing you with melodic sensibilities; more on enchanting you while alone in your room than out exploring with friends. The whole point is to leave you a bit befuddled by the whole approach, and inspire you to listen again and again in hopes of figuring it out.
Hearing the back-story helps, too. Cox has Marfan syndrome, a genetic disorder that produces disproportionately long limbs, among other things, which explains his odd, gangly demeanor and goes part of the way to explain his own self-described outsider identity. Depending on your source, he's also either bisexual or gay — he identifies as a "true queer art punk, " though his publicist adds that he's never had a boyfriend. All of which, of course, explains things a little more.
JANET JACKSON
Discipline
ATLAS SOUND
Let The Blind Lead Those Who Can See But Cannot Feel




HOT CHIP
Made In The Dark





"I am waiting to be changed, " Cox sings repeatedly on "Quarantined. " He never explains why he is quarantined, "kept so far away from my friends, " or what he's waiting to change. The song doesn't exactly fly at the end, but it does cocoon from a faint bass pulse and wind-chime-style instrumentation to a bass-heavy, lightly cacophonous sound, complete with the use of rare instruments including mbira, metallaphone, bells from Ghana, even a glockenspiel. It's the sort of sweet, soft, strange sound stamped all over the album's 14 tracks, a sound he can't make as part of the five-piece Deerhunter, a band more focused on making angular rock and less-exotic ambient electronica.
Atlas Sound, which Cox named after the company that made the first recording device he used, a cassette karaoke machine, is very much a solitary endeavor on every level. Cox repeatedly tries to escape or retreat from others in his lyrics, even in songs, such as the bright and buzzing "Scraping Past, " that stray from the general feeling of being isolated in a desolate space. "Scraping past highways, always too crowded to see, " Cox sings. "Come with me and trade away all that. "
Cox ends the album with the title track, an instrumental that reprises the haunted, atmospheric dulcimer-based track that opened the album after the 7-year-old boy's recording — a real-life sample Cox found online. In the boy's tale, the ghost comes and goes, living in a certain haunted house only until the ghost "doesn't want to live there anymore. " After that, he just "moved back into the place he lived before. That's the end. "
Advertisement

| | | |
| --- | --- | --- |
| Janet Jackson: Discipline | Hot Chip: Made in the Dark | Atlas Sound |
There's nothing haunted or even puzzling about Hot Chip's music, which draws much of its feeling from musical humor and lyrical wit. Hot Chip's members may be straight, but their music and lyrics are actually gayer than Bradford Cox's. The techno banger "Ready for the Floor, " for example, features the band's Alexis Taylor singing, "I'm hoping with chance, you might take this dance/You're my number one guy. "
You can tell you're in for fun just by glancing at the titles, from "Bendable Poseable " to "Touch Too Much, " of the 13 new songs on Made In The Dark. This is, after all, the same group of crackups who charmed us two years ago with the catchy "Over and Over " single, which spoofed pop music's penchant for repetition. Now they're back with their third album. These goofy Brits just keep getting more energetic, more club-oriented and certainly more appealing with each album. The boys poke fun at clubland clichés at several turns here, but best on the brilliant built-for-the-club track "Don't Dance, " which swells from techno-pop to full-on house, with several dramatic breaks and crescendos.
"You can't win with: this freedom, this freedom; Is this freedom? " comes the Celeda-like chant in the first break, a bridge with an ominous chord. The first response is the calming, sweetly sung titular refrain: "Don't dance, don't dance, don't dance. " But then the synth dives deep and ricochets, causing a crash and a commotion no one can resist. "Brothers oughta wake up in here, " they say. And they do: This is tongue-in-check dance-floor freedom of the first order.
From YouTube: Janet Jackson: Feedback (live on 'Ellen')
From YouTube: Hot Chip, 'Ready For The Floor'