In 1982, three 12-year-olds living in Mississippi embarked on a movie-making mission: To recreate Raiders of the Lost Ark, scene by scene. Armed with a Betamax and 600-plus hand-crafted storyboards, Eric Zala, Chris Strompolos and Jason Lamb recreated the Stephen Spielberg masterpiece, sparing no details. From the iconic rolling boulder that pursues archeologist-adventurer Indiana Jones in the opening scene, to the sequence in which Indy perilously crawls underneath a moving truck's carriage, it's all in the resulting RAIDERS OF THE LOST ARK: THE ADAPTATION. The homemade movie, which took seven summers to create and is decidedly rough-hewn yet extremely impressive given the production limitations faced by the young filmmakers, recently got the blessing of Spielberg, who appreciated the care, love and ingenuity put into the homage.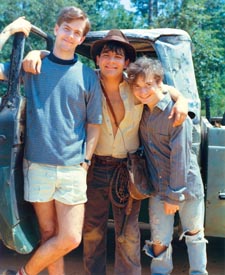 Raider of the Lost Ark: The Adaptation
Zala, now 37, is overwhelmed by the success of his Raiders at recent public screenings. "All of a sudden we're showing it in front of people and witnessing the power of this little film that was shot in my mom's basement. "
You can see it for yourself at a rare public screening at the Hirshhorn, Independence Avenue at Seventh Street SW, next Thursday, March 13, at 8 p.m., in the Ring Auditorium. Admission is free, but seating is limited and available only on a first-come basis. Call in sick and get in line early.
From YouTube: Raiders of the Lost Ark: The Adaptation (Original Trailer)