She'll be 40 in just two months, but Kylie Minogue still can't stop reliving her first time.
"The DJ's got me feeling like I did when I first met you," Minogue sings on new single "All I See." When a DJ — or your iPod — spins this winsome new song or really any of the 12 others from Minogue's new album, X (




), you just may feel the same way. Actually, chances are you'll find the experience better than the first time you met her — certainly better if your first time was with the Aussie superstar's first hit as a teenager 20 years ago, her silly remake of "The Loco-Motion." Probably better even if you happened to love her biggest hit yet, the one that got seared into your cranium seven years ago as she droned "la la la"s all the way through.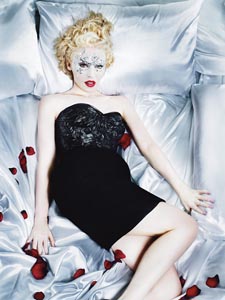 Kylie Minogue
Her first album in five years and her 10th all told, X is better than you'd likely expect from Minogue, purveyor of always-pleasant dance-pop that is often a touch too bland — or too cute and cloying — to inspire you to keep listening. She still gets too cute on X — she coos a bit too breathily in spots, and occasionally she sings without as much passion as her lyrics suggest she should. But this album dazzles and sparkles as much as the showgirl costumes and cosmetics Minogue dons in the album's packaging. This will please any fan of Supernature-era Goldfrapp, janet-era Janet Jackson, and latter-day Britney Spears, not to mention all-era Madonna. In other words, this is music custom-built for a gay club.
"All I See" is as great as Jackson at her very mid-tempo best — think "That's The Way Love Goes" or "Someone to Call My Lover." No wonder this was picked to be Minogue's first single stateside. (As always with Minogue, the album's release in the United States comes several months after its release everywhere else.) "DJ spin my record again," Minogue ever-so-sweetly commands.
You can't be a major pop star these days in a fragile music industry and not work with at least a couple of the top producers in the business. But Minogue chose wisely here, not relying on the most obvious — the ubiquitous Timbaland is gloriously absent, for once. The best: Bloodshy & Avant, the Swedish duo responsible for one crisp and crackling pop tune after another, from Madonna's "How High" and "Like It or Not" to Spears' "Toxic" and "Piece of Me." They produce three tracks with Minogue, including an unusual ode to hands-free telephony, "Speakerphone." "Drop your socks and grab your mini boom box," Minogue amusingly sings, and her vocals and the music are distorted and a bit static-y, as if they were coming straight out of your cellphone's low-fidelity speaker.
"Wow" is just one of several bright and bubbly tunes with an '80s sensibility, this one reminiscent of Madonna's "Lucky Star." Minogue's voice rises with the music as the tune emerges from deep underwater. Minogue splashes above the surface when it comes time to sing the title, singing it to the sound of a distorting, bulging bass. It's an effect that could become annoying if you hear it too much. She wisely only uses it a few times in the song.
"You're such a rush, the rush is never-ending, now," Minogue sings on "Wow." The rush of this record probably won't actually be neverending. But there can be little doubt you'll find X, as one of her greatest hits put it, love at first sight.
Advertisement

| | | |
| --- | --- | --- |
| Kylie Minogue: X | Mariah Carey: E=MC2 | Moby: Last Night |
Moody Moby gives us the opposite of cutie Kylie with his latest release. Though he does create several rising tracks that could gain favor there ("I'm in Love," "Disco Lies"), this album is decidedly not custom-built for a gay club. Last Dance (



) is even more steeped in the '80s than Minogue's set, with expressive early-house rave-ups and festive raps throughout — including one from Grandmaster Caz, one of the writers of hip hop's first big hit, "Rappers' Delight." At its best, the album, a mix of instrumentals and songs featuring guest vocalists, is a nice nostalgic trip through clubland during probably its greatest and most diverse decade. Not to mention several tracks that fit right into the techno mold that first gained Moby fame a decade ago. But the album should be more engaging than it is. These tracks often unspool slowly and frequently don't go anywhere incredibly exciting.
Moby, 42, says his aim with his sixth studio set and first in three years was to condense 25 years of going out in New York every week into 65 minutes, and to capture the various moods of the whole clubbing experience, from the celebratory to the despairing. But Moby is clearly heavy of heart, and not finding as much release as one would hope from such a dedicated devotee. Too many of these tracks wear a frown, and slink away in wistfulness, even sadness. Maybe he means the title literally. Is his "Last Night" of clubbing in the offing?
If this is the soundtrack to Moby's club life, for his own sake but especially ours he might want to mix things up a bit more, maybe stop into a gay bar on showtunes night or something. "One Night Only" is probably all it would take.
From YouTube: Kylie Minogue, 'Wow'
From YouTube: Moby, 'Disco Lies'