An authentic clock, one of the oldest human inventions, is meant to make noise. The word "clock " is derived from the Celtic words clagan and clocca meaning "bell, " according to Wikipedia, so there's got to be some kind of noise. We're not just talking about the "tick tock, " we're talking bells, cuckoo birds and more. With Daylight Savings Time robbing you of an hour of sleep this Sunday, March 9, what better way to make up for lost time than with a new clock? You know the old saying, "Lose an hour, buy a timepiece. "
Chromed Plastic Cuckoo Clock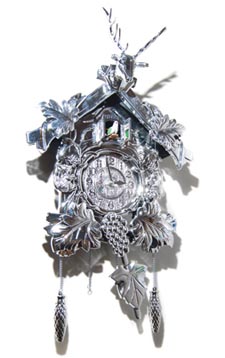 You haven't gone mad. A singing cuckoo bird that pops out atop every hour is just one of the many features this nostalgic gem with a modern, chrome finish offered for $42 at Homebody DC. The clock comes with a number of forest and cuckoo sounds to match the hour, and is measured at a width of 14 ", height of 25 " and a diameter of 9 ". Available at Homebody DC, 715 Eighth St. SE; 202-544-8445; www.homebodydc.com.
Pick-me-up Alarm Clock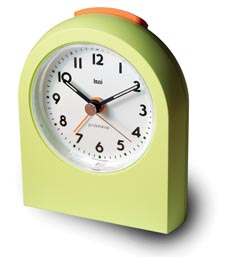 Meet the smart alarm clock. This one of a kind ticker-tocker features a bold, retro, sans-serif typeface, and reacts to movement. When you pick it up in the middle of the night, it lights up. When the alarm goes off, you can activate the snooze feature also by picking it up. It's visible in the dark and operates on a single AA battery. $28.99. In chartreuse, turquoise or grey at Home Rule, 1807 14th St. NW; 202-797-5544; www.homerule.com.
Rotation Clock by Nuevo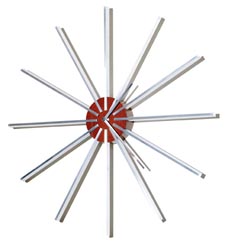 While not noisy like its neighbors, it's a star! No, it's a sun! Really, it's 12 aluminum rods that protrude outward from the center of this elegantly minimal, deco piece. With no numbers and a simple design, the Rotation Clock is what you want it to be. The clock features a wood-tone center and measures 20 " in diameter and 1.5 " deep. $115. At Urban Essentials, 1330 U St. NW; 202-337-4462; www.furnituredc.com.