Say cheese. In fact, there are two kinds of cheese served up in Smart People. The first kind is because the film serves up short scenes that provide virtual snapshots into the lives of the Wetherhold family. The second is that there is a whole lot of cheesiness going on.
Literature professor Lawrence Wetherhold (Dennis Quaid) is beaten down by the world. He can't be bothered to remember his students' names, his latest manuscript isn't being published, and in the height of clichés he's still hoarding all of his dead wife's clothes in the closet. If this wasn't enough, he's pompous and dismissive of others. Liking him is a lot to ask.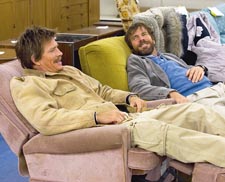 Thomas Haden Church and Dennis Quaid: Smart People
His kids aren't much better off, thanks in large part to their father. His daughter, Vanessa (Juno's Ellen Page), is an uptight, plaid-wearing, card-carrying Young Republican who would rather study for the SATs than visit her father in the hospital. His son, James (Ashton Holmes), is a closet-poet who keeps even the biggest news away from his father rather than seek his approval. It's not exactly the Cleaver family.
It takes Lawrence's adopted brother Chuck (Thomas Haden Church) to break everyone out of their monotony. Chuck is unmotivated, a poor role model in the traditional sense, and probably the best hope for the family to reconnect. Although the entrance of a certain doctor — Janet Hartigan (Sarah Jessica Parker) — helps speed the melting of Lawrence's cold exterior.
Dr. Hartigan.
Heart again.
Get it?
It's that type of elementary device that makes Smart People feel dumbed down.
In fact, though featuring a well-known cast, Smart People just feels sophomoric. It strives hard to be quirky and original, but ends up being common. Given that Page stars in both, it's hard not to compare it to Juno because it also hopes to be offbeat yet poignant, except that Smart People is a far, far cry from being as good a film. Even if you don't think Juno deserved an Oscar nod, you'll have to agree it's better than this one.
Since Smart People is the first film for both director Noam Murro and writer Mark Poirier, it's hard to determine who is more to blame for the film's amateurish nature. The plot is sluggish and disjointed while the flow is jumpy and inconsistent. The feeling that the story is told through a series of vignettes rather than a continuous whole is less surprising when you learn that director Murro is most well know for his promotional films (aka commercials). It does resemble a series of 30-second spots, but not the good ones shown during the Super Bowl.
For all its faults, Smart People isn't a complete wash. Quaid does as good a job as possible playing the curmudgeonly Lawrence. Quaid's whole body takes on the weight that Lawrence lives under, and he walks as if his burden has settled in his oversized stomach and it pulls him forward. Quaid's whole performance is muted, so any extreme emotions that Lawrence experiences are referred to rather than displayed. For example, when Vanessa and Chuck empty the shrine of clothes and take them to Goodwill, the aftermath is seen but Lawrence's initial reaction is not. Perhaps it's because the characters never feel too much that it's hard for the audience to feel too much either.
SMART PEOPLE

Starring Dennis Quaid, Sarah Jessica Parker
Rated R
95 Minutes
Area theaters
Just off her Oscar nomination high, Page is back as yet another precocious teenager with a vocabulary beyond her years. This time, however, she's more likely going to be picketing the family-planning clinic rather than visiting one. It's fortunate that more people will likely see Juno, because her turn in Smart People is adequate at best. There is nothing memorable about this role or this performance. Though Vanessa is described as a robot, Page barely delivers her lines as one.
Church and Parker play the livelier of the characters so it's tempting to call them the more refreshing actors in the film, but they're more memorable for their material than their performances.
The ending of the film is one that most smart people are going to be disappointed with. After 90 minutes of watching a group of people who don't evoke much sympathy (or any emotion for that matter) slouch through life, the cure-all that's presented is borderline insulting. The snapshots that are presented of the Wetherholds' lives are like visiting friends and having to look at pictures of their vacation. You suffer through it at the time, but are relieved when the album is closed.
From YouTube: Smart People (Trailer)