The day will come when you'll want to know what to do with that rutabaga.
Whether you're new to the possibilities of your home kitchen or an experienced home cook, cookbooks can inspire, educate and enlighten you on the possibilities of food. And you don't have to invest in a huge library, at least to start — a handful of books can keep you creatively cooking for years.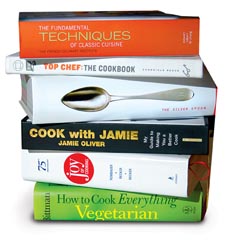 There's a reason Joy of Cooking ($30) has been around for more than 75 years — it's one of the most comprehensive, yet accessible, cookbooks available, and serves as the cornerstone of any home cook's bookshelf. Recipes range from exotic items of international cuisine to oddities of American regional diets (Kentucky burgoo, anyone?). But what makes Joy worth its weight in truffles is the "Know Your Ingredients" section that you'll revisit for instruction again and again as you expand your culinary goals.
Celebrity chef cookbooks abound, but Cook with Jamie ($37.50), by Jamie Oliver (The Naked Chef) takes a pleasingly laid-back approach to the basics of cooking. Between the good-natured instructions to use your "fairy fingers" when dressing a salad and the illustrated guide to preparing fresh squid, you'll find a range of beautiful and intriguing dishes with which to try your hand.
Everyone loves Italian, and with the explosion of foodie culture everyone knows Italian is more than spaghetti and sauce. The best way to experience that at home is to pick up The Silver Spoon ($39.95), which is basically a Joy of Cooking from Italy. With more than a thousand pages of recipes, illustrations and instruction, you'll be in the kitchen for a long time — and loving every minute of it.
If you want to leave the meat out of more of your meals, Mark Bittman's How to Cook Everything Vegetarian ($35) is a veritable compendium of recipes that will make your vegetables sing. Bittman takes a "flexitarian" approach to vegetarian eating — you don't have to stop eating meat, but you don't have to eat it all the time — so even if you're a rare-steak fanatic you'll find a lot here to love.
If you've been cooking for a while, chances are you enjoy showing off a little when cooking for your friends and family. The Fundamental Techniques of Classic Cuisine ($75) from The French Culinary Institute brings together just about the most detailed information you'll find on French cooking techniques outside of a high-level classroom. The book is pricey, but worth it when your new skills hit the plate.
Finally, because no bookshelf should take itself too seriously, feel free to indulge your passion for reality show cooking with Top Chef: The Cookbook ($29.95). The televised Top Chef has earned the devotion of foodies nationwide by combining the guilty pleasures of reality TV with the approval of true culinary superstars. You won't learn to cook reading Top Chef — though you'll be tempted to try such series standouts as Moroccan Cubanos — but you'll have a lot of fun nonetheless.
Advertisement

| | | |
| --- | --- | --- |
| The Joy of Cooking | Cook with Jamie | The Silver Spoon |
Advertisement

| | | |
| --- | --- | --- |
| Top Chef: The Cookbook | Fundamental Techniques of Classic Cuisine | How to Cook Everything Vegetarian |