For lucky students, there is one teacher who touches their minds in a special way that opens the world of knowledge to them and changes the way they view the world. In Alan Bennett's The History Boys, there is one teacher who touches them not only in this manner, but in a far more lecherous way as well.
Bennett's Tony Award-winning play features a large cast of young men — eight principles and four ensemble players — and four adults. In a cast this large, the potential for a weak link is great. In Studio Theatre's production, director Joy Zinoman has assembled a cast that holds tight and carries the play forward with no signs of stopping or weakness.
Set in the early 1980s at a British prep school, The History Boys follows eight young men as they prepare for their Oxbridge entrance exams. Their General Studies teacher, Hector (Floyd King), dreads these exams more than the boys themselves do, decrying them as "the enemy of education." Although eccentric in his teaching ways, Hector has instilled a knowledge of literature and culture in the boys that is haphazard at best, but they can recite line after line of poetry that would astound most teachers.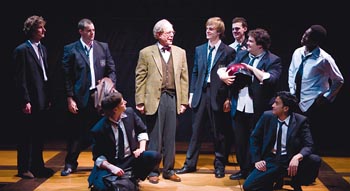 The History Boys at Studio Theatre
Thoroughly unimpressed is the headmaster (James Slaughter), who cares less about the boys and more about his own reputation. Determined to take credit for their successes, Felix hires Irwin (Simon Kendall) to groom the boys for their exams. For Irwin it's not about fact, it's about being interesting. Controversy is fine — in fact, it's what catches the eye of the examination board. Belief in what is being said is less important than it being heard.
Caught between the two teachers are the boys, all looking for acceptance and trying to figure out their place in the world. Being presented with two very divergent paths adds extra angst to their lives. Center in this battle are three of the boys: Posner (Owen Scott), Jewish, gay, and tormented by unrequited love; Dakin (Jay Sullivan), the cocky object of Posner's affections who knows it; and Scripps (Ben Diskant), a religious young man who provides insight to the boys' lives.
Scott is simply heartbreaking as Posner, fragile on one hand, while, on the other, finding the strength that coming out often provides. Songs like "L'accordioniste" and "Bewitched, Bothered, and Bewildered" are interspersed throughout the play, most of which are sung by Scott who brings both a tenderness and lightness to the performances. Posner is the most nuanced of the boys and Scott lives up to the challenge. Dakin, mostly guided by his pants, is far less complex, but Sullivan controls the part and in the final scenes reveals a new level of complexity to the character. Diskant is properly earnest and good as Scripps.
Playing the parts of the competing teachers, both King and Kendall do wonderful jobs. As Hector, King is wacky, a little aloof and forgivable for his misdeeds. His love for the boys, though conflicted and inappropriate, also has tenors of being selfless and altruistic. King handles a brief breakdown by Hector with ease and provides the audiences a glimpse behind the façade that exists. Kendall also turns Irwin into a complex and equally engaging character. The ying to Hector's yang, the two play brilliantly off each other, even when not sharing the stage.
As the sole woman in the cast, Tana Hicken is magnificent as history teacher Mrs. Lintott. Hicken brings grace and a touch of irreverence to the show. Intended to be a part that stands out for its gender singularity, Hicken also stands out for her mastery of the role.
For such a complex show with so many moving parts, Russell Metheny's design is deceptively simple. The set features little more than desks that the actors move on and off stage with them and a rotating door that helps break the scenes apart. Various windows on the edges of the stage allow for the cast to be a part of the play, silent observers, even when not engaged in dialogue. It's a wonderful reminder that in setting such as this, there is always someone watching and nothing remains a secret for long.
The History Boys is filled with so much tension, it's impossible that it's not going to break. When it does, Zinoman's restraint avoids melodrama which makes it all the more powerful. Each performer deserves to share in the success of this production — it's a show from which much can be learned.