The phrase "he's running a marathon" is very often followed by "why?" Understandably so. Training for and competing in a marathon involves endless hours of running, sore muscles, blisters, cramps, dehydration, and sometimes the loss of nails. For even the most athletic and determined people, it's a feat. For Dennis (Simon Pegg), a down on his luck, out of shape, lovelorn smoker, it might be the only thing that wins back the heart of the woman he loves.Nevertheless, after battling zombies in Shaun of the Dead and surviving a town filled with homicidal maniacs in Hot Fuzz, Pegg is probably up to the challenge.Run Fat Boy Run represents the feature length film directorial debut of David Schwimmer, best known for playing the neurotic Ross on Friends. While his character on the sitcom may have been annoying and over the top, Schwimmer's gift for comedy — although perhaps not originality — shines through in his direction. He leads a strong cast through all the ups and downs of love and running to a strong finish in this film. It's the classic redemption love story, but it's better than most comedies in this genre.Dennis is your consummate beta male: he's mediocre in everything he does. In fact, he's most known for leaving his pregnant fiancée Libby (Thandie Newton) at the altar. Five years later, Dennis is working security at a women's clothing store in London, forever locking himself out of his rented room, and while he loves his son completely, he's not always the model father.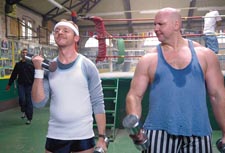 Dennis's longing for Libby increases ten-fold when Whit (Hank Azaria), a dashing American who seems to have it all, not only wins Libby's heart, but starts to usurp Dennis's paternal role. In an effort to prove he can commit to something, Dennis vows to run in the upcoming marathon. It's abundantly clear that Dennis is going to need a little help from his friends.
Schwimmer sets the stage quickly and effectively, allowing ample time for Dennis to rise to the challenge. There is no dawdling to demonstrate the low state of Dennis's affairs, instead Schwimmer focuses on the humor of a "fat boy" trying to run, complete with a musical montage to track his progress.
Pegg again proves he's a comedic force who should be taken seriously, equally able to play the physical gag for a laugh as he is delivering a line with dry wit in that way only the British can pull off. Though he's hamming it up for the lion's share of the film, one moment alone when he's looking for his son Jake (Matthew Fenton) proves his acting chops. In short, Pegg makes sure we like this bumbling idiot who does everything wrong.
Fortunately, Pegg is not in this race alone and the supporting cast is equally strong. As his former fiancée, Newton is sweet, bubbly, and believable as a beautiful women who might just fall for the beta male. Rounding out the family, Fenton is downright adorable as young Jake. The kid from Jerry Maguire has nothing on this gap-toothed tot.
RUN
FAT BOY RUN

Starring Simon Pegg, Thandie Newton
Rated PG-13
101 Minutes
Area Theaters
While Azaria does an adequate job as the rival you're supposed to hate, it's Dennis's unlikely coaches, gambling friend Gordon (Dylan Moran) and landlord Mr. Ghoshdashtidar (Harish Patel), who really whip the movie into shape. They're hysterical in their roles as motivators and ultimately provide Dennis with his backbone and show that running can be a team sport.Though perhaps only those wacky enough to run a marathon will be able to get the inside jokes, Pegg and co-writer Michael Ian Black take the odd little particulars about long distance races and make them funny and touching. Run Fat Boy Run is ultimately a film you've seen before, but it's sponsored by Nike (you can't miss the product placement) so running has been substituted as the vehicle for winning back the woman's heart.
With the exception of one disgusting and unnecessary blister incident, it's good fun every step of the way. While you might not want to be running next to Dennis, he's someone you'll be cheering for from the sidelines.
From YouTube: Run Fat Boy Run (Trailer)