Baby Mama cries out to be compared to a pregnancy. First, it starts off making you queasy. Then, it keeps growing and gets more and more uncomfortable. Finally, when it feels like nine months have passed since you entered the theater, the contractions of laughter actually get closer together. And when it's all said and done you have something that almost makes it all seem worthwhile.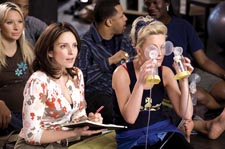 Tina Fey and Amy Poehler in 'Baby Mama'
Kate (Tina Fey) is a single, career-focused woman in her late 30s who's a little bit awkward and hopeless when it comes to love. Fans of Fey's sitcom, 30 Rock, will at first think she's simply channeling Liz Lemon. Also like 30 Rock, the first half hour of the film feels like a sitcom that was slapped together in a week, but this one lacks the wit of Fey's writing so a few canned and stilted punch lines barely hold together the plot. It's not until Kate's baby mama Angie (Amy Poehler) moves in that things really start rolling.
As Kate's doorman (Romany Malco) helpfully defines, a baby mama refers to someone with whom you've had relations, has your child, and you help support. In a "wonderful" display of stereotypes, he says he knows because he has two. When 37-year-old Kate is told by her doctor (John Hodgman, the "I'm a PC" guy from the Mac commercials) that there's a one-in-a-million chance she'll conceive a child, she decides that adoption takes too long and turns to a surrogate. Guided by a way too polished Chaffee Bicknell (Sigourney Weaver), Kate chooses her polar opposite in Angie, a loud, brash woman whom you'd question letting walk your dog let alone be your surrogate.
At the same time, Kate's kooky boss (Steve Martin) chooses her to be his surrogate — his baby being a new health-food store in Philadelphia. During the scouting for the perfect location, Kate meets the smoothie guy, Rob (Greg Kinnear), and sparks fly. But how will Rob feel when he finds out Kate's bun is baking in someone else's oven?
After Fey's success on Saturday Night Live and with 30 Rock, Baby Mama represents her first miss. Her timing as the uptight, career woman is just plain off. Maybe she is just more comfortable with her own writing, but Fey's half of the odd couple never really gels as a character. Poehler more than carries her weight, even as it increases through her pregnancy. Admittedly, she has the better lines and can take Angie to the edge and back, but a couple zingers don't make a movie.
The supporting cast isn't very strong so, fortunately for Fey, the star isn't shown up by them. Kinnear's role is straightforward and slightly corny. It doesn't require much, and he doesn't give it much. As Kate's hippy yet capitalistic boss, Martin is a toned-down version of roles we've seen him in before. Basically, it's a part that only works because it's Steve Martin in the role. Weaver takes a number of cheap shots for her age, but none of them warrant any laughs so it's a superfluous running joke at best.
By the time Baby Mama finds its groove, it just feels too late and too clichéd to really invest in the film. A couple twists and turns keep some level of interest going, but like when the mother asks if it's chocolate or poop on her son's hand and licks it, you know it's going to end up being the sweet option.
BABY MAMA

Starring Tina Fey, Amy Poehler
Rated PG-13
96 Minutes
Area Theaters
What's truly frustrating about Baby Mama is that in its attempt to be politically correct as well as shockingly funny, it loses all sense of balance. When Kate's mother (Holland Taylor) bemoans the trend of famous actors adopting children from Africa, her racism is eventually offset when she embraces Kate's doorman at the end of the movie. Malco is virtually the only racial minority in the movie and is relied upon to deliver all the jokes that play on the term "baby mama." Ultimately, Baby Mama offends when it shouldn't and fails to when it could for a good laugh.
Overall, Baby Mama doesn't really deliver much. As with all babies, you'll feel obligated to say it's cute, but deep down you just might be thinking "Yikes!"
From YouTube: Baby Mama (Trailer)