The scene: A very handsome, young Colonial man writing a letter inviting his "dearest beloved" to meet him at Independence Hall at the stroke of 6. Cut to the landmark building where the same man waits with flowers as the clock tolls the appointed hour. A young woman strolls by but he pays her no mind — it's another young fellow who accepts the flowers, revealing who holds the main character's heart.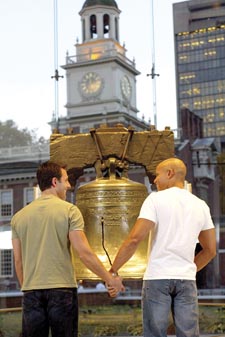 Gay 'Liberty' in Philadelphia
Is it a Logo movie-of-the-week? No, it's a a 2004 commercial marketing Philadelphia as a gay-friendly destination. A groundbreaking moment in gay travel marketing, it was the first television spot to specifically invite gays to visit a U.S. city.
But Philly's tourism folks will tell you the commercial wasn't about making history. For them, it was simply smart business and about doing the right thing.
With the gay travel market worth around $50 billion annually, Philly was one of the first cities smart enough to go after its share of that money. And it continues to go after it. Luckily for the City of Brotherly Love, it has a good product to sell.
The fifth largest city in the United States, Philly offers a thriving gay nightlife with dozens of bars and nightclubs, excellent dining and lodging, unique shopping opportunities, and internationally recognized arts venues.
Of course being only a short train or car ride away, Philly is also a convenient destination for gays from the D.C. area, especially for a nice weekend escape. Here are some favorite picks to help you plan a trip.
Stay
There are plenty of accommodations to fit your mood and price when visiting Philadelphia. With a history of being a welcoming place for gay visitors, Alexander Inn (www.alexanderinn.com) is a boutique property with just 48 rooms. It's clean and comfortable with an abundance of charm.
For those seeking something a little more hip and modern as well as a little more costly, the Loews (www.loewsphiladelphiahotel.com) fills the bill nicely. Housed in the historic Philadelphia Savings Fund Society skyscraper, the hotel offers stunning views of the city, and recently underwent a $9 million upgrade to its spacious guest rooms.
Eat
Iron Chef Masahuru Morimoto, in partnership with famed Philadelphia restaurateur Stephan Starr, operates a fantastic Japanese restaurant, simply named Morimoto (www.morimotorestaurant.com). The food is outstanding — especially the sushi — and the décor is fun and modern.
Lolita's (www.lolitabyob.com), with its open kitchen and intimate dining room, serves tasty, modern Mexican cuisine. The restaurant is the creation of Chef Marcie Turney and her partner Valerie Safran, who have built a little lesbian empire in the middle of downtown Philly with a home-goods store, a small grocery store and an Indian restaurant, all on the same block as Lolita's. It's important to know that Lolita's is a BYOB, or in this case bring your own tequila. A large number of restaurants in Philly either do not provide their own alcohol, or allow outside alcohol to be brought in for little or no fee.
Do
You can pretend you're Rocky and run the steps up the Philadelphia Museum of Art (www.philamuseum.org) — and if so inclined, actually go inside and check out its sprawling collection. Each year the museum presents more than 25 exhibitions, so there is always something new to experience.
Of course, any visit to Philly has to include a tour of the many historic sites of Independence National Historical Park (www.nps.gov/inde). The park spans more than 55 acres across 20 city blocks, and includes the Liberty Bell Center and Independence Hall, which is not only where the U.S. Constitution was birthed, but also the site of some of the nation's first gay rights protests in the 1960s.
Play
From Sisters (www.sistersnightclub.com), one of the nation's few seven-days-a-week lesbian nightclubs, to Bump (www.bumplounge.com), a swanky lounge bar and restaurant, to Woody's (www.woodysbar.com), a casual two-level bar and dance club, Philly has a happening gay nightlife. Most of the gay bars and clubs are within easy walking distance of each other in Philly's downtown "gayborhood," located between Pine and Walnut Streets and between 11th and Juniper Streets.
For more information about Philadelphia's gay-friendly offerings, visit www.gophila.com/gay. The site includes some exclusive money-saving travel packages.