Using the Out2Paddle calendar, 2006 was Year One.
That was when this dragon-boat team, affiliated with Asian/Pacific Islander Queers United for Action (AQUA), made waves as the first officially gay team in the annual Washington D.C. Dragon Boat Festival. And, indeed, they made a splash at this two-day cultural festival that celebrates the ancient Chinese sport of racing dragon boats — so named for the addition of dragon heads, tails and painted scales to otherwise regular-looking, long boats that hold 20 paddlers apiece.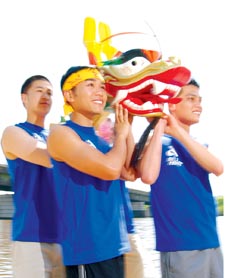 "When we started this, it was just a bunch of friends who wanted to try something different," says Reggie Reyes.
That first year, team members were predominately gay Asian men, and most were members of AQUA. And they raised a few eyebrows at riverside.
"[The other teams] were kind of mocking us. You could see them whispering and stuff." Reyes says they didn't now what to expect from the other teams — and the other teams didn't know what to expect from Out2Paddle.
"We were sunbathing between heats, while the other teams were working out," he laughs.
Elaine Chiang, a straight friend of Reyes' who has also been paddling since Year One, felt the same rebuff as her friend, even though she was paddling on the team with her husband.
"The first year, truthfully, there were a lot of teams who shunned us," she says.
Still, Out2Paddle rose above the tide of tittering to win the bronze in the "open A division" 500-meter race along the Georgetown waterfront. The "open" designation allows for a mixed-gender team of any proportion.
Then and now, Chiang serves as the team's "stroke" — the one who sets the pace for all to follow. In total, teams are comprised of 23 people: 20 paddlers, including the stroke, one drummer and two alternate paddlers. The drummer beats out the stroke's rhythm to the rest of the team.
When they returned for their second year, Reyes says the team was ready for sneers and snickers. They decided that in this sink or swim arena, they were going to swim — fabulously.
"We thought they were going to make fun of us anyway, so I wore a tiara," Reyes says playfully. "That was when we won."
With the tiara and lots of attitude to keep them afloat, Out2Paddle took the gold in the 500-meter open B division race.
The win prompted a request from a mainstream team to borrow the tiara — though it proved less lucky for them than it was for Out2Paddle.
After Year One's introduction and Year Two's big win, Year Three will see yet another new twist from AQUA: Out2Paddle2. Thanks to aggressive recruitment and an ever-rising profile, AQUA is fielding two teams this year. Out2Paddle will be an all-male team, while Out2Paddle2 will be mixed gender. Reyes is team captain of the latter, while Ethan Ngo will captain the men's team.
Ngo, who raced for the first time last year, enjoyed the experience so much he couldn't miss coming back for another year. And while he trains hard and approaches the race seriously, winning the gold would just be a bonus to the team's continuing mission.
"If we can win gold, that's great. If not, that's okay, too. We're still introducing ourselves to people."
While Reyes agrees that the non-competitive goals of the team are important, the dragon boat race brings out his competitive side as he pounds the drum to set the team's pace — his very competitive side.
"This is the only time of the year I lose my voice," he says. "I can be in your face, 'Hey, you! You're not paddling fast enough.' I like being in front, but it's not as easy as everyone thinks it is — you don't want to get personal when they're slacking."
It may be that difference in styles that landed Angelo Sommer, a first-time paddler, in Ngo's boat.
"I've got a little bit of excited nervousness, but it's more just for the camaraderie and raising awareness," says Sommer in Ngo-fashion. "The competition is secondary."
Sommer has also contributed to the overall team experience by signing on as a sponsor through his work at Keller Williams Realty-Old Town Alexandria, teaming up with Nellie's Sports Bar to buy jerseys for both Out2Paddle and Out2Paddle2.
But if any of Reyes' crew come to resent their taskmaster by the end of the weekend, worry not. He promises he'll be paying a price of his own.
"During the race, there's an extra boost of adrenaline, but once that wears off, you're in pain." Reyes says he added some time in the gym to his training regimen this year, based on his past experience.
"The first weekend in 2006, by Monday I could barely walk to work."
The seventh annual Washington, D.C., Dragon Boat Festival runs Saturday and Sunday, May 17-18, along the Georgetown waterfront, based at Thompson's Boat Center, 2900 Virginia Ave. NW. The full schedule has not yet been posted, but races and cultural events usually begin both days around 8 a.m., ending at 7 p.m. For more information, visit www.dcdragonboat.com. For more information about AQUA, visit www.aquadc.org.