Pools in northern climes are set to open this weekend and the beaches are starting to warm. Whether you've been working out or not, you can still look hot while half naked.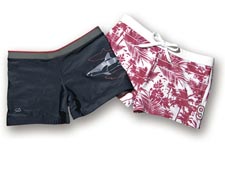 Wear the new Tubarao in Blue suit by Blueman to the beach and you're bound to turn a few heads — not because of the hungry looking shark on your hip, but because of the lean cut and tight fit. Exclusively at Universal Gear for $69.50. For those who prefer blue skies and dry land, Universal Gear offers Dolce & Gabbana's Tree Print Square Cut in red or blue for $195. Universal Gear, 1529 14th St. NW, 202-319-0136, or online at www.universalgear.com.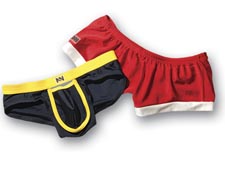 The Leather Rack is more than leather — it's the summer's hottest swimwear! N2N's Poser line offers a peek-a-boo tease with a cut above the pouch, while still hiding your junk, for $38.95. Also check out the Bobcat design if you're looking for something more modest, also from N2N, for $31.95. Leather Rack, 1723 Connecticut Ave. NW. 202-797-7401. www.leatherrack.com.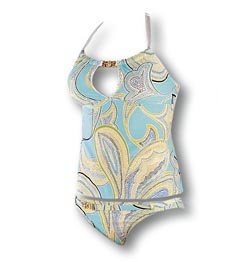 Strapless, two-piece suits by Trina Turk are among the most popular gear for gals at South Moon Under at Rehoboth Beach. But don't think anorexic summer — Trina Turk also offers the Paisley Tankini, featuring a flattering top. The Tankini is $146, available at most South Moon Under stores, including Rehoboth, 120 Rehoboth Ave. 302-227-3806. www.southmoonunder.com.