Spend five minutes browsing a Williams-Sonoma catalog and you'll see the world is filled to the brim with kitchen gadgets built to perform highly specific tasks, from dicing an onion to pitting a mango. The siren call of gadgets can be hard to resist, but they all pale in usefulness and versatility when compared to the most basic tool you can own.
The knife.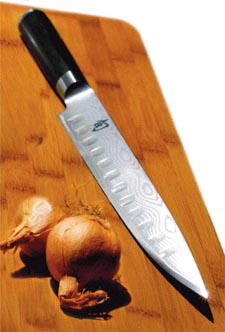 With a good knife and a bit of practice, you can dice your veggies to order, pit your mangoes, mince your garlic. And all without having to clean, maintain and store a plethora of one-use items.
A quality, sharp knife should be the centerpiece of your kitchen, especially if you're learning the basics of home cooking. The razor sharpness of high-quality knives may seem intimidating, but they are far safer than dull ones that require excessive force for basic use.
Here are few things to consider when purchasing and using a new knife:
Determine what you need. Even when shopping for a basic knife, it's easy to get pulled into the same "More, more, more!" impulse that fills your drawers with gadgets. If you're a weekend warrior in the kitchen, you likely don't need an 18-piece knife set that could navigate the menu of a five-star French restaurant.
Two types of knives are must haves. An 8- to 10-inch chef's knife will get you through most kitchen tasks, while a small paring knife will handle precise detail work. After those, consider a serrated knife, best for breads and tough-to-slice items such as tomatoes.
If, however, you're looking to explore and learn new techniques in the kitchen and price isn't a barrier, then a set with 10 or more different knives may be just what you need.
Try before you buy. Kitchen stores offer knives in a wide variety of brands and styles — ask to hold different ones to determine which heft suits you. Also, consider the type of handle — it should fit comfortably in your hand. If your wrist tires easily from repetitive motion, be sure to experiment with more ergonomically designed handles.
Learn the basics. While sharper knives are safer knives, you still need to pay careful attention to their use to avoid injury — especially if this is your first time working with a high-quality knife. Go slowly — you don't need to emulate the fast-chopping chefs you see on TV — and keep the tips of your fingers curled under your hand and away from the blade when holding the items you're slicing or chopping.
Many cookbooks cover the basics of knife usage. For more detailed information, refer to books such as Knife Skills Illustrated: A User's Manual (W.W. Norton, $22.95). If you're seriously dedicated to learning more, check out the recreational-class offerings at L'Academie de Cuisine (www.lacademie.com) in Bethesda, or in one of the local community colleges.
Treat them well. A high-quality cutting board will help keep your knives sharp and free of nicks. Learn to hone your knives with a steel to maintain their edge, and have them sharpened once a year. Some kitchen stores such as Sur la Table often offer free sharpening services. You may also be able to use a home sharpener — but check your owner's manual before running your knife through a machine.
Finally, while most knifes may be labeled "dishwasher safe," the detergents could cause discoloration or even pitting. Learn to wash your knives carefully by hand. With a little tender, loving care, they'll keep you on the cutting edge for years to come.
Sean Bugg is the co-publisher of Metro Weekly as well as the proprietor of Ascribe Catering.