Imagine Margaret Murray's discomfort when she first walked into One in Ten's offices, tucked into second-floor space behind the Church of the Pilgrim at P and 22nd Streets NW. Fresh from Florida in 2006, she'd accepted the position as executive director before making an office visit.
"My heart sank to my knees," she recalls, laughing at the memory. "It looked like someone was having a garage sale in a prison."
But as a local, non-profit, GLBT arts and culture organization, there was not much budget for nicer digs. New paint would have to suffice, a fact that board member Rick Rose mentioned to Chad Alan of Chad Alan Designs, as Alan completed a design project on Rose's home. Perhaps Alan could offer some of his design talent and help them pick their new colors?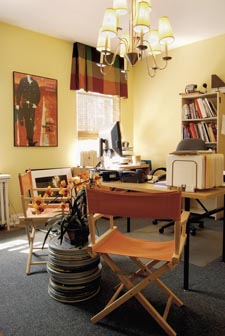 Many locals should be familiar with Alan's bold style, as it was he who gave the since-closed Dakota Cowgirl its dramatic appeal and masculine warmth.
Warmth was something One In Ten was in dire need of.
"In the winter, I was freezing," says Murray, insisting she wasn't merely adjusting to the move from a tropical clime. "You could hear the wind whistling past my office window. I'd wear scarves and a jacket. I would try to use the computer with gloves on."
The gaps around a window air-conditioning unit provided one of the biggest challenges for Alan, who crafted a hinged covering to block off the unit in cold months. This pro bono project — worth upwards of $10,000 — did not stop there. Not by a long shot.
Says Alan: "There was all the electrical, furniture, track lighting, sconces, two chandeliers — those were some expensive pups, wow! I got them on extreme discount though a lighting friend of mine, Ann Wachtel."
Aside from Wachtel with the lighting, Alan also turned to his friend Scott Roewer, president of Solutions by Scott, a professional organizing firm. One of Roewer's many contributions — with the help of some shelving donated by Logan Hardware — was to craft shelving specific to One In Ten's various needs, housing everything from DVDs to party supplies.
Beyond the pragmatic, there was the matter of style. Alan wanted to bring a hint of old Hollywood into the One In Ten screening room with some art deco flair, seen in the leather furniture and ottomans. He kept both the screening room and Murray's office warm and welcoming with his choice of paint — mariner green and hawthorn yellow.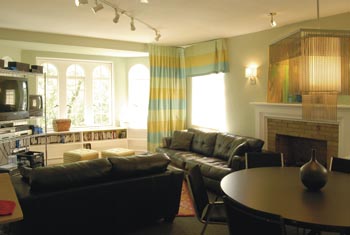 After all was said and done, Alan decided the windows needed one more treatment: blinds.
"There had been some venetian blinds, kind of a dirty, institutional white. We scrapped those," says Alan. "Now there are white, woven-reed shades in the screening room and scorched bamboo in Margaret's office."
For her part, Murray couldn't be happier, and not just because she can now spend winter months typing without gloves.
"In the past, with prospective board members, we'd always have a little meeting off-site somewhere because we didn't want to scare them off," she says. "Now we invite them here. People come in and sit on the nice couches and we can have civilized meetings here."
She adds that aside from Alan's transformation, Roewer's organizing has also made parts of her job simpler and quicker than she could've imagined.
"It was so much fun, just to see these two guys who I really didn't know walk around, make notes, and then to see it all transform right before our eyes. God bless gay designers!"