It's been six years since funnyman Mike Myers last said "Groovy, baby" in the third installment of the Austin Powers franchise, which is also how long it has been since Myers had a live-action hit. (I don't think I need to ask forgiveness for not counting The Cat in the Hat as a hit.) Since that time, Steve Carell has burst on the scene and established himself as one of the hottest comedic commodities in town. As the two went head-to-head last weekend with new films opening on the same day, it's hard not to declare that there's a new king in town. Even though Carell doesn't get a laugh with every line in Get Smart, it's a hell of a lot better than Myers' The Love Guru, which gets mired in muck.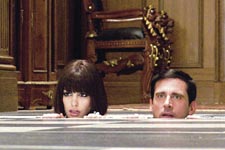 Hathaway and Carrell in "Get Smart"
Get Smart features Carell doing what he does best — being Steve Carell. Playing the slightly bumbling, but always lovable Maxwell Smart, Carell's performance is an amalgamation of many other roles. He's the guy you want to win, but he's going to get a little beat up in the process and repeat every gag one too many times.
In the film adaptation of the television show that ran from 1965 to 1970, Smart, an analyst for the U.S. government's CONTROL program, finally — and only — gets his chance to move out from behind his desk when every single other secret agent is compromised. Paired with the Agent 99 (Anne Hathaway), who's just recovered from major plastic surgery (good doctor!), the two head to Russia to stop an arms dealer from sending nuclear weapons around the world. The plot is inconsequential — the movie is about funny lines.
Unfortunately, for the first half of the movie only about one in every four punch lines hits its mark. After that, it's about one in every three, then two, until a strong finish almost makes you forget the earlier missteps. Just as Maxwell Smart is learning the ropes as a spy, director Peter Segal is learning about comedic timing. Fortunately, Hathaway knows the drill from the start and is more than just a pretty face in the film. She's a much-needed breath of fresh air when Carell's shtick starts to wear a little thin.
GET SMART

Starring Steve Carell
Rated PG-13
110 Minutes
Area Theaters
The action sequences never lag — they're altogether fun and fabulous — a combination of Mission Impossible and Charlie's Angels. Get Smart is also quite likely the first film of its kind to hinge on a man-on-man action kiss (don't worry GLAAD, it's more funny than insulting). In the end, Get Smart is silly fun. If the world gets saved in the process, all the better.
About one grueling hour into The Love Guru, Jessica Alba's bland character says, "I haven't laughed like this in a long time," which made me realize that I hadn't laughed in a long time.
It's hard to pinpoint what exactly the underlying problem is with Myers' latest film: bad concept, pathetic writing, poor acting or just all of the above. Either way, it's a good thing that Myers' Guru Pitka character likes to laugh at his own jokes, because no one else is amused.
Guru Pitka is cursed with being the number two mind-body guide in the world, right behind Deepak Chopra whose name is invoked in the film almost as many times as Mariska Hargitay's. Don't ask. When a hockey player needs a quick marital fix, Guru Pitka is called in to do the job.
THE LOVE GURU

Starring Mike Myers
Rated PG-13
88 Minutes
Area Theaters
If dealing with this guy is the only way to find love and happiness, then self-love and bitterness is the way to go.
The sad, sad fact of the matter is that the film just isn't funny. There's a little person (Verne Troyer) for the few short jokes not used in the Austin Powers films, and there's a scene with Justin Timberlake lip-syncing to Celine Dion, but otherwise it's Mike Myers being really pathetic. And as one of the writers, he's got no one to blame but himself. Even in a film that relies on gross gags like smacking people in the face with a urine-soaked mop, a whole new low is reached when two elephants start humping on the ice during a hockey game.
Not even a shirtless Timberlake in a generously stuffed Speedo makes the film worthwhile. It's that bad.
From YouTube: Get Smart (Trailer)
From YouTube: The Love Guru (Trailer)