Come Saturday, June 14, at 6:30 p.m., whether the sun is shining or there's a deluge of rain, the 33rd annual Capital Pride Parade officially kicks off at the intersection of 23rd and P Streets NW.
"No matter what, we have to do it," says Capital Pride Parade planning committee co-chair Eric Reader. "There isn't much of a back-up plan."
With past Pride parades as an indication, you can count on an assortment of colorful floats and celebratory sounds representing D.C.'s LGBT community. Organizations, businesses and many others will join forces to showcase their support for the our community, some by simply walking and holding signs, others with over-the-top presentations (watch for D.C. Smiles Advanced Dentistry's helium-balloon float).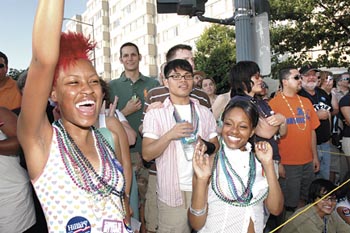 Reader, who co-chairs the parade's planning committee of 15 members, expects 40 more volunteers on the day of the event, including his best friend and co-chair, Steven Walker.
"We're responsible for basically organizing and running the entire event," Reader says, adding that the process, which he says began almost immediately after the closing confetti from last year's parade hit the ground, includes "finding and getting sponsorships, getting organizations to be involved in the parade, and [recruiting] volunteers."
Bringing people together highlights the importance of the Capital Pride Parade.
"I think it's important that the gay and lesbian and transgender community get recognized and come out and celebrate as a community and show their support for each other," he says. "It's a good way to find [information about] the businesses in the community that are gay-owned and gay-operated as well as those supportive of the gay community. It's just for everybody to come out and be recognized and see who recognizes us."
Reader adds that it's also about having a good time. To up the bar on the fun meter, this year's organizers took on the challenge of making the parade "bigger and more festive."
"We wanted to include more floats, more marching bands and more performance groups," he says. "There has always been a contest, but this year we've made a little bit bigger deal out of it," Reader says. Judges of the contest will look for how participants incorporated Capital Pride's theme — "History. Vision. Legacy." — into their presentations.
During Capital Pride week, parade organizers will select three judges from various Pride events. For example, the highest bidders at the Annual Bachelorette and Bachelor Auctions on June 12 will be offered the chance to participate as parade judges. A total of three judges will rate the floats and participants, and together select a winner in the following categories:
Best Theme and Energy, for the best participant that incorporates the theme with "great emotional content and outstanding presentation."
Best Float, for the best float or decorated vehicle.
Best Marching Band
Best Visiting, for the best group from outside the D.C. area.
Most Outrageous.
That final award, explains Reader, is "for the unexpected, over-the-top, brilliant and unique entry."
The winners will be awarded with trophies when they are announced during the Capital Pride Festival on Sunday, June 15.
To help the parade maintain momentum as it makes its way through Dupont Circle, Reader and Walker are placing an announcing stand at the intersection of 18th Street and New Hampshire Avenue NW, with DJ Brennan Sullivan serving as emcee.
"In years past we've only had a review stand. That's been in front of Whole Foods [on P Street], where judges and emcees announce the contingents as they go by," says Reader. "[An additional announcement stand] will allow performance groups, like D.C. Different Drummers…another place to be able to stop and perform. [Also] New Hampshire Avenue, between Dupont Circle and R Street, is usually a dead area, and Dupont Circle is usually very crowded…so we put this announcement stand on New Hampshire Avenue in hopes of moving the crowd a little bit."
Comic Bruce Vilanch is serving as Celebrity Grand Marshal, while NBC4 news anchor Wendy Rieger will emcee from the main reviewing stand across from the Whole Foods on P Street. Beloved D.C. activist Cheryl Spector and local philanthropist Noi Chudnoff, both of whom died in the past year, have been named Honorary Grand Marshals.
According to Reader, it costs between $40,000 and $50,000 to produce the Capital Pride Parade.
"A lot of that goes to the city and police fees, some of which we get refunded, but that varies from year to year," he says. "It also goes to the announcement stand, the review stand, awards, and all the physical stuff that it takes [to put on the parade]."
As far as Reader and Walker are concerned, that's a small price to pay to bring the LGBT community together and make a lasting impression on spectators.
"I remember the contingents, the floats, marching bands and different things," Reader says of his first Pride Parade, about 20 years ago. "It was the time that I was coming out and it made me realize that I was not alone, and there were lot more people out there like me."
Walker had a similar epiphany when losing his parade-virginity.
"I was probably about 21 and I had no idea what to expect," he remembers. "I didn't realize there were so many other gay people in the city, close to me. It really opened my eyes and made me appreciate who I was more."
The Capital Pride Parade steps off at 6:30 p.m. sharp, rain or shine, Saturday, June 14, at the intersection of 23rd and P Streets NW.