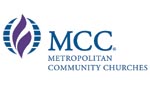 The Metropolitan Community Church is neither Catholic nor Protestant, says Rev. Mark Byrd, who serves at the D.C. chapter of the church as assistant pastor.
"We're a Christian church who believes that God's love is for all people. At MCC-DC we have a third of our members from the District, a third from Maryland and a third from Virginia.
"Although we have other churches that are welcoming and affirming, we're really the first and oldest and largest denomination that is predominantly LGBT," says Byrd of the MCCs around the world.
"It continues to be very important for us to let folks know that it makes no difference to us who you are and where you come from. It's about celebrating God's love, and having not only a safe place, but a place that's nurturing. MCC really challenges us to give back to the community and to walk the journey with all those who are at the margins."
This year, MCC has adapted a Pride theme titled, "Would Jesus Discriminate?" Byrd explains that it's a message that is part of a national campaign created to stir discussion about discrimination and the positive aspects of promoting inclusiveness.
"You'll see that theme in the parade this year, in our signs," he says. MCC has eight different branches throughout the area — and all eight are participating as Capital Pride Community Partners. In addition to D.C., the Maryland chapters include Boyds, Chesapeake, College Park, Hagerstown and Laurel, while the Virginia chapters include Fairfax and Fredricksburg.
For more information about the Metropolitan Community Church nearest you, visit www.mccchurch.org.