The Maryland-based band Odd Girl Out was named after a lesbian pulp novel, but it shares a name with a popular book that was turned into a Lifetime movie.
"We laugh because every time that movie airs, the hits to our Web site spike," says the band's drummer and principal songwriter Bethany Petr. The movie, generally speaking, is about girls' aggression. The band, generally speaking, is about women's empowerment.
Is there any conceptual overlap between the two?
"Hmm, not really," she says. "I mean, Eva, our bass player, she really loves all that riot grrl music from the '90s, even though she was a little kid when that was out. And I would call that aggressive, but we're not quite so much. We're not just like pounding on these instruments that we sort of know how to play, and screaming, and that sort of thing.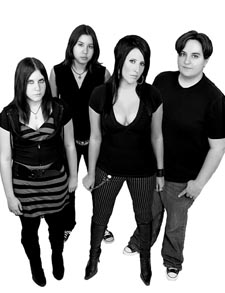 Odd Girl Out
"I mean, some of the ideas behind what we're saying could be considered sort of aggressive, but they're pretty sounding," Petr chuckles, talking about the songs. Pretty sounding, indeed: Odd Girl Out makes eminently tuneful music, the likes of which you don't hear everyday from an all-lesbian band with a serious passion for rock in the mold of Green Day or Heart. Petr explains that the band's singer, Tawni, was weaned on pop music. "Her voice clarity is there, and it's not quite as rough as you would think of when you think of rock and roll."
Odd Girl Out formed in 2004, emerging from a blues cover band that Petr and Tawni had been in. "We mostly played in a basement, and we decided that was not what we wanted to be doing," says Petr.
For the first couple years as Odd Girl Out, they were simply a covers band in a different genre, rock. That includes the first time they performed at Capital Pride, in 2006. "We loved that last time. We're looking forward to coming out and playing some nice original music," Petr says. Original music written by Petr, the drummer — which helps to explain why the band has a bit more rhythmic energy than others. Petr writes the music on guitar, though she doesn't play guitar with the band. And she sticks to backing vocals only.
"In our old band I sang lead on one song, and it felt like my head was going to explode," she says. "There was just too much going on."
The band, originally a five-piece, lost its former lead guitarist last December — but they quickly realized they didn't need to replace her. Selena Bellany moved up from rhythm to lead. "She's really incredibly good and amazing on lead, so it works out fine with four," says Petr. The quartet — Tawni, Petr, Bellany and Eva Blackmer — practices in Silver Spring, though the members are scattered in the suburbs between D.C. and Baltimore.
At performances, the band plays a mixture of covers and unrecorded new songs, as well as material from its 2007 album Hurry Up and Wait. The title stems from the long ordeal it took to put together the album, with several changes in the lineup that required re-recording it multiple times.
"It was kind of traumatizing to get that album done," according to Petr, explaining why a second album won't come soon. For now, they're just focused on performing.
"We'd love to be rock stars," jokes Petr, "[but] I don't know how realistic that is. Unfortunately, I'm getting kind of old for that," says the drummer, who's only 30. Obviously, she feels a bit old given that her band cohorts are only a few years removed from the Montgomery County high school students she teaches computer programming. "A little bit," she concedes.
Petr says the mostly empowering lyrics on the album reflect her encounters with other people. On "Master Plan," Tawni sings, "Ain't no god in this machine, no magic twist of fate is gonna save you from yourself."
"That's officially about some friends that I've had who kind of just go through life and they don't want to make any choices, they want other people to decide stuff for them," explains Petr. "That's not going to happen. You have to do something for yourself."
It's a lesson Petr says the band has learned and taken to heart: "We've put in so much work it's crazy."
Odd Girl Out is scheduled to perform Friday, June 13, after 11 p.m. during the Official Capital Pride Women's Dance Party, and again on Sunday, June 15, at approximately 11:15 a.m. on the Capital Pride Festival Mainstage. Times subject to change.