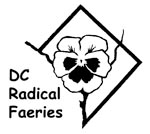 When Harry Hay, founder of the gay-pioneering Mattachine Society and a leftist, was called to appear before the House Un-American Activities Committee in the 1950s, he refused to testify. Though Hay died in 2002 at the age of 90, one can only imagine how pleased he would be to see his legacy, Radical Faeries — in this case, the D.C. tribe of the group he formed in 1979 — singing and dancing with abandon on Pennsylvania Avenue in the shadow of the Capitol.
"One of our faeries, Eric Eldritch, had been working on the Capital Pride committee last year. When he told us that there was going to be a change in the way that Capital Pride was run, we knew exactly what we wanted to see happen. We wanted to see Pride owned and operated by
the queer community. We wanted power to the people and that's what we advocated, and that's why we're a part of the Pride Alliance today," says Eric "Fritter" Riley, of the new entity that will transition into managing Capital Pride for 2009.
The D.C. Radical Faeries offer people of any and all sexual orientations a chance to explore "queerified" spirituality and interfaith cooperation, as well as chance for members to "share and nurture their essential fabulosity."
A good chance to do just that might start with joining the Faerie contingent as it dances along the Capital Pride Parade route, or perhaps by visiting one of the group's weekly potluck dinners, reliably held every Monday for the past 10 years. Don't let the boas and beads fool you — these Faeries are dependable.
"We've never missed one. It's our ultimate claim to fame," Jonathan "Snowbaal" White says with a laugh.
"Our doors are open to people of all genders and all faiths who wish to explore spirituality in a unique, queer way," he adds. "We know how to make that fun."
For more information visit www.dcradfeys.org.