Up-and-coming dance-pop crooner Brendan Velasquez sounds a lot like Justin Timberlake, and Velasquez says he was a huge fan of Timberlake's former group 'N Sync — even though he wasn't even a teenager when the boy band struck it big.
Velasquez cites an even earlier influence as his most impressionable.
"There are videos of me from when I was two, dancing around, pretending I was Paula Abdul," says the singer, born and based in Baltimore County. Yes, Abdul, the one-time Los Angeles Lakers cheerleader and choreographer to Janet Jackson now best known as the too-nice and a little nutty American Idol judge. So influential was she that Valesquez has now covered one of her earliest pop hits.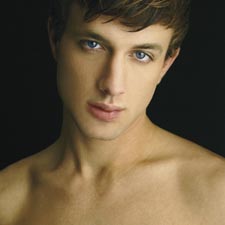 Brendan Velasquez
"During one of the first conversations that Raymon and I had," he says, referring to his album's producer Raymon Smiley, "we decided we were going to remake 'Cold Hearted Snake'…. That was the first song I ever recorded."
That cover version will appear on his debut album, Living Out Loud. A music firm will officially release the set later this summer, but it will be available at Velasquez's various debut Pride performances this month, including Capital Pride. Velasquez, who first generated some online buzz more than a year ago, also just wrapped shooting a video for his first single, "Anxious."
"It's just a song about being anxious to get out of your daily routine and let loose with your friends or whomever," says Velasquez, a common theme on his album, and in his life.
"I grew up pretty fast," admits the man who sounds wiser than his 20 years. For that, he credits his mother, who raised him alone. "My mom taught me that nobody was gonna do anything for me and that if I wanted to follow my dreams it was only me who could make it happen".
His dad, who divorced his mother when he was two, died years ago.
"We didn't really have a relationship – we were working on it," Velasquez says. "I always thought there'd be time to fix itself. It's definitely a big part of who I am, to have a parent pass away that early in your life."
His father, who was straight, actually died from an AIDS-related illness. "To see somebody go down that way is a pretty traumatic experience. It's a scary disease."
As his toddler impersonation of Abdul shows, Velasquez says he's always been drawn to performing. "I didn't really realize it was a talent until I grew up. I just thought that everybody felt that way, or could sing. I didn't even really recognize it as anything special until I had gone away from it for a while when I was in high school."
He stopped singing in choir and in school musicals, and started thinking about cosmetology and other non-musical pursuits. He quickly realized nothing fulfilled him the way music does. So Velasquez started writing music. He also auditioned for Idol, though he came away from that experience disillusioned — and he didn't meet Abdul, either. They corralled him into a group of four, with each contestant singing for 10 seconds or so.
"The guy who got through in my group was one of the ones they let through for comic value; he had a space suit on. I kind of lost respect that they're sending people through for ratings."
So he focused on online exposure. His manager Smiley found him through a Website called TalentMatch, which Valesquez says predates MySpace as a vehicle for getting noticed. He flew out to Nashville, where Smiley lives. "We recorded some demos that I hope nobody ever hears, 'cause they sound like they're from the '90s," according to Valesquez, who cites Deee-Lite and underground lounge music from the '90s as influences in addition to Abdul and 'N Sync. Dance-pop has always appealed to the singer. "I always felt that kind of energy with music, something that isn't so serious it makes you want to kill yourself because it's so depressing, but something that kind of lifts you up and takes you away from daily life, the daily grind.
"I really don't care about stardom," he continues. "I don't seek fame or glory. [Pop music] is what I want to do, it's not for any other reason than the fact that I love to sing and I have things to say. I really just hope that people like the music and if they want to support me that's great.
"But I'm gonna be having fun no matter what."
Brendan Velasquez is scheduled to perform Sunday, June 15, at approximately 1:40 p.m. on the Capital Pride Festival Mainstage. Time subject to change.