As the co-owner of Cocker Productions, Robert York, a former director of Capital Pride, has been producing Capital Pride pageants for nearly a decade now.
"I still want to be involved and committed to the success of Capital Pride just like any volunteer would," he says. Cocker Productions is producing this year's Mr. & Ms. Capital Pride Leather contest, at 11:30 p.m. on Friday, June 6, at the Green Lantern, 1335 Green Court NW; and the Mr. & Miss Capital Pride pageant, at 7:30 p.m., on Wednesday, June 11, at Town Danceboutique, 2009 Eighth St. NW.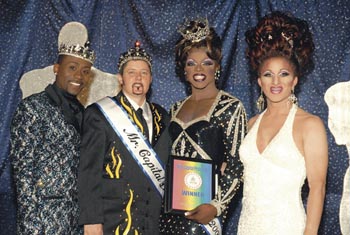 Mr. & Miss Capital Pride
"It's important to have representatives who represent Capital Pride on a regular basis throughout the year," York says. "By having [these pageants] we have four individuals who are going to be working throughout the year, and are willing to promote and get involved in the community on behalf of Capital Pride by representing their titles in different segments of our community."
The Mr. & Miss Capital Pride pageant includes the following categories: Pride Attire, Talent, Formal Wear and On-stage interview, Evening Gown and Coronation. Winners in both contests receive $500.
Long before he began working behind the curtain organizing Capital Pride pageants, York competed in the Mr. Gay All American and Mr. Gay U.S.A. pageants, between 1996 and 2000. He won regional titles in both contests and even though he didn't win national titles, York says he picked up a few tips that could come in handy for Capital Pride pageant contestants, this year.
"Do it for the right reasons," he says. "Do it for yourself as well as for the community, and really be engaged and involved in the process. When someone gave me advice years ago, it was that the community is always going to need representation. Sometimes we don't always have a great deal of people who want to step up to do that, so anytime that you can be involved to make a difference, it's always good for the individual and better for the community as we move forward."
For those planning on attending the pageants this year, York advises them to be prepared for just about anything.
"Last year we saw our first-ever drag king win Mr. Capital Pride, so there's always room for the unexpected or surprises that may happen, because people are really committed to showcasing their talent."
It's history in the making, he adds.
"The history of Capital Pride pageants includes a great number of people who are still involved within the community," he says, including Monet Dupree, health educator at Transgender Health Empowerment, and Gigi Paris Couture, who co-hosts Bingo at Be Bar on Tuesdays.
"Come out and see a great evening of pride from the contestants and the community, and see our new winners crowned," he says. "They will represent us for the next year."
For more information on the pageants, visit www.capitalpride.org.