If you watched the Tony Awards this past Sunday you saw Lily Tomlin deliver the set-up for a performance from the Broadway musical Xanadu. Reduced to something just more than a sentence, Tomlin summarized Xanadu as being about a Muse who comes down from Mt. Olympus to inspire a young artist to open a roller disco.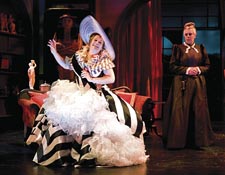 Mystery of Irma Vep
Accepting that few works can stand up to such brevity — man chases large white whale, adulteress wears red "A," orphan girl is adopted by wealthy bald man — the reality was clear. As plots go, Xanadu's is remarkably dumb. Great fun. A classic in its own way. But dumb.
The same could be said of Charles Ludlum's The Mystery of Irma Vep now playing at Arena Stage. Fun. A classic in its own way… actually, a great number of classics done in their own way. And unapologetically dumb.
Performed with two actors playing numerous roles thanks to vaudeville quick-change tricks and a team of fast-handed dressers, The Mystery of Irma Vep begs, borrows and steals from literature, Hitchcock thrillers and vintage monster movies.
THE MYSTERY OF IRMA VEP

To July 13
Arena Stage
1800 S. Bell St.
Arlington
$47-$66
202-488-3300
Lord Edgar Hillcrest (J. Fred Shiffman) has brought his new wife, the Lady Enid (Brad Oscar) home to his family manor. Despised by the servant Jane (Shiffman again) and craved by the groundskeeper Nicodemus (Oscar again — get where this is going?), the Lady Hillcrest finds herself trapped in a struggle to hold on to her very sanity. That is, when she and Jane aren't playing dueling banjos on their dulcimers.
Shiffman and Oscar are both very talented actors and when the show is working it is enormously entertaining. But there's a lack of spontaneity, a spark that's missing, and sometimes it causes the work being done on stage to seem like… well… work. The costume changes already have the pair walking a high wire — why not take the unicycle out of storage and see what happens?
No one heading over to Crystal City to spend an evening solving The Mystery of Irma Vep will arrive expecting an evening of erudite theater. And that's good. Because like the mysterious Irma Vep, it's not to be found.
---
It's hard to know where to start talking about The Civilians' This Beautiful City now at The Studio Theatre. Presented as part of the same "Opening Our Doors" initiative that brought rainpan 43 to D.C. audiences, The Civilians blur the boundaries between storytelling, musical theater and creative nonfiction to offer a viewpoint that is as deeply nuanced as it is entertaining.
This Beautiful City is based on a series of interviews the company conducted in Colorado Springs, Colo., over a 10-week period. The New York troupe spoke with more than 100 residents of the community, which is home to the Air Force Academy, Focus on the Family and the conservative New Life Church. But while the research portion of the project started in June of 2006 when New Life was a major national force in the Christian Evangelical movement, the development of the show coincided with accusations that New Life founder and spiritual leader Ted Haggard had hired a male prostitute from whom he also purchased crystal meth. Haggard would later resign from the church and move from Colorado Springs.
Writers Steven Cosson and Jim Lewis have chosen to balance this creative mix of monologue and music on that single incident, but the ground the show covers is far more expansive. This Beautiful City raises questions about the separation of church and state, the role that religion can play in either bringing together or tearing apart a community, and our own very personal feelings about what it is to be — or not to be — a person of faith. Ultimately, this is a show where the reaction of the audience becomes just as telling and integral to the message as the action on the stage.
Some of the most successful musical numbers are drawn very directly from the sound and performance style of the kinds of Christian rock bands that populate youth festivals and the stages of some mega-churches. The sermons delivered from the stage have the texture and emotion of the real thing. The monologues — delivered as responses to the questions of an unseen interviewer — are troubling in their very real earnestness. While there are certainly some elements drawn just large enough that they become more clearly clownish, most are far too complex for that.
Which causes one to wonder, what are we laughing at? Is it the show? Is it the idea that someone might pick his family up and move halfway across the country because he sincerely believes it was God's will to do so? Is it the belief that people of faith are a collection of individuals whose level of insanity falls in direct proportion to how seriously they take their beliefs?
THIS BEAUTIFUL CITY

To July 6
Studio Theatre
1501 14th St. NW
$39-$57
202-332-3300
Or is it that the fall of individuals like Ted Haggard is our modern day equivalent of a slip on a banana peel and the humor we find in a show like This Beautiful City is watching a self-serving giant brought low by a different kind of rock?
The small ensemble includes some remarkable talent, including Stephen Plunkett and Emily Ackerman. Among the numerous characters the two become during the course of the show, most striking are their performances as Ted and Gayle Haggard, re-enacting the couple speaking to the press from the front seat of their car. Marsha Stephanie Blake performs a fiery piece of oratory that temporarily transforms Studio's Metheny Theatre into a revival tent. Aysan Celik is the near-broken heart of the cast — her characters wear their faith and pain and struggle like heavy vestments. She delivers some of the show's most beautiful and sincere moments.
This Beautiful City shows what can be accomplished when a play asks more questions than it can ever possibly answer. When characters that might be played for simple, fast laughs are given time to be human and hurting. When writers challenge us to spend as much time looking at ourselves as the actors on the stage.