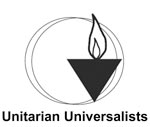 Why is Unitarian Universalism so appealing to gays? Margaret Albamonte, chair of Capital Area Interweave, a group with about 60 members representing 17 D.C.-area Unitarian Universalists Churches, says it might have something to do with the fact that the religion has been leading the way, ordaining LGB and T ministers and supporting same-sex unions since the 1970s.
"Unitarian Universalists have universally been on the forefront of LGBT rights, as far as religious organizations go," Albamonte says.
Moving into the new millennium, as the community moves from after-hours parties to baby showers, she adds that the Unitarian Universalists are keeping pace.
"It's not just about partying," she says of being gay. "We raise children and contribute in every way, shape and form to society as a whole.
"Unitarian Universalists is a place where many multicultural families have found a home. We have so many families — straight and queer — who have mixed marriages, say Jewish and Catholic. We have Buddhists, Christians, atheists. It's home for many different paths. We are designed to celebrate our differences, not tear them down."
Albamonte invites Capital Pride Festival goers to check out Unitarian Universalists and discover a spiritual tradition that may offer quite a bit more to GLBT souls than they may have imagined.
"It does not have all the bells and whistles of some religions, but a deeper, more welcoming faith would be hard to find."
And if you don't believe Albamonte, check out Capital Pride's Interfaith Service, June 10. Unitarian Universalist minister, Rev. Archene Turner, will be delivering the keynote address.
For more information, visit Unitarian Universalists for Social Justice at www.uusj.org, or Unitarian Universalits at www.uua.org.