Washington and Waverly, Tenn., may not be sister cities, but Greg Link knows of one cultural tie that makes them kin, of sorts.
As owner of the Home Rule housewares shop at 1807 14th St. NW, a member of the MidCity Business Association, a native of Waverly, and the impetus behind MidCity's annual Dog Days of August Sidewalk Sale, Link says the sale is a Tennessee import.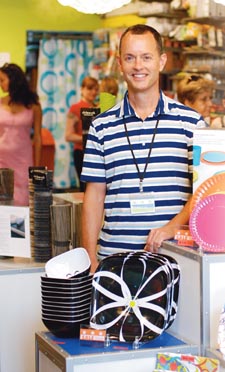 Greg Link at Home Rule
"Everyone used to dress up in costume," Link says of the weekend sale in Waverly he remembers fondly from youthful years in the 1970s. "The costume winner was on the front page of the newspaper. I can't get anybody to do that here!"
Though he may not be able to get Dog Days participants in this area encompassing the U Street and 14th Street NW corridors, roughly, to don costumes, he has generated plenty of enthusiasm. Now in its ninth year, Link says the original effort included just six businesses. Now there are almost too many to count.
"The sheer scope is unbelievable," he enthuses. "There's been an incredible number of businesses joining this neighborhood. The neighborhood loves it, so it's grown into this big event."
One newcomer this year is Universal Gear, which moved from 17th Street NW to 1529 14th St. NW in November. While Universal Gear is already running a sale marking down some spring and summer clothing by 20 to 40 percent, rumor has it that the markdown will jump to 40 to 60 percent on July 31, just in time for Dog Days.
David Dennis, owner of RCKNDY at 1515 U St. NW is another of the more recent Dog Days participants, having been open little more than a year.
"It's our second Dog Days sale. We had like three pieces last year, no furniture," Dennis laments. But he's making up for a slow start.
"We have a ton of furniture going on sale. We've got décor, pillows, bedding. The really exciting thing is we've got six sleeper-sofas on sale. They're the hottest thing in the store."
He adds that his shop's basement, usually closed off from the general retail space but open and full of merchandise for Dog Days, will be an added bonus: "It'll be cold. You can rest on the sleeper-sofas."
Relief from what will surely be a hot weekend — with the Dog Days sale running Saturday and Sunday, Aug. 2 and 3 — can also be had at Go Mama Go!, 1809 14th St. NW. Better known as a gift boutique and gallery, Dog Days means snow cones — usually in orange, cherry and lemon-lime.
"We've got glassware from Japan, these beautiful, ceramic, green and red glazed bowls," says Ted Puntanen, advising that people may come for the snow cones, but stay for the bargains. "Everything inside the store will be 15 percent off, except artwork." Some of the Go Mama Go! action will also serve as a fundraising effort for Ganymede, the GLBT arts organization, over whose board presided Noi Chudnoff, a favored straight ally in the community and former owner of Go Mama Go!, who died suddenly last year.
And across the street in its food-bank parking lot, even Whitman-Walker Clinic joins Dog Days with its annual yard sale. Proceeds here go to benefit the clinic's food bank.
Meanwhile, Ganymede's theatricality will be matched up the street at the Studio Theatre, at 14th and P Streets, offering an array of props used in the past year's shows. That means everything from My Children! My Africa's handmade teacher's desk, to the small coffin from The Pillowman. With air vents, Studio suggests it as a perfect haunted-house item.
Of course, with more than 500 business within the MidCity Business Association's scope, this is just the tip of the iceberg. Couple that with the fact that the Dog Days sale coincides with the District's tax holiday, running Aug. 2 to 10, and it's easy to see why the event just keeps getting bigger. All that's left is for Link to find a way to top that success with a celebration next year befitting Dog Days' 10-year mark.
"Maybe," Link suggests, "it should be the Drag Days of August?"
For more information about the MidCity Business Association Dog Days of Summer Sidewalk Sale, visit www.midcitylife.com. For details of the District's tax holiday, visit http://otr.cfo.dc.gov.