Mamma Mia!, how can I resist you? The answer is I can't. And if you're looking for a good time, neither should you.
In Mamma Mia! the name of the game is fun, which is often synonymous with ABBA music. It's practically a requirement to start waving your arms around and sing when the Swedish foursome start one of their famous numbers. So what if the movie featuring their music has a silly plot with more cracks in it than the foundation of the hotel where it takes place? The story is only filler until the next musical note is struck, until the next warble comes out of someone's mouth, until that warble transforms into a familiar song and you want to jump out of your seat and start to dance. Okay, so not every song makes you want to transform into a dancing queen, but more do than don't.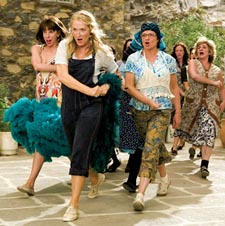 Christine Baranski (left) and Meryl Streep (front) in 'Mama Mia!'
Mamma Mia! first hit the London stage in 1999 and original director Phyllida Lloyd (named one of the 100 most influential gay and lesbian people in Britain by The Independent in 2006) jumps behind the camera for the big-screen adaptation. What the story lacks in depth Lloyd is more than able to compensate for with spunk.
Young Sophie (Amanda Seyfried) is about to get married to local boy Sky (Dominic Cooper), but she wants the fairytale wedding complete with dad walking her down the aisle. Unfortunately, hippy-dippy mom Donna (Meryl Streep) doesn't know which of three men (Pierce Brosnan, Colin Firth, Stellan Skarsgård) is the father. When Sophie invites them and they all show up on the small Greek island for the wedding, chaos (and singing and dancing) ensues. It's clear long before "The Winner Takes It All" what's going to happen, but who cares, so long as there's plenty of ABBA?
The movie feels like a play from the start, but not in a good way. The first couple of scenes are incredibly forced and stilted, like actors just coming on stage who haven't found their groove and settled into their roles yet. Fortunately, once everyone arrives on the island, the tempo starts to pick up speed and soon everyone is following the same beat.
For someone portraying a mid-life crisis, Streep sure looks like she's having a good time. (In fact, everyone looks like they're having a blast and it's contagious.) Streep is fantastic, prancing around in overalls with hair flying in all directions. She may not hit every note on the faster songs, but her rendition of "Slipping Through My Fingers" is just beautiful.
Seyfried, who has conquered everything from a ditz in Mean Girls to a sultry dead cheerleader in Veronica Mars, plays it light and cool. She's already proven she has comic timing and deeper acting talents. Now she proves she's got a great set of pipes, too. Her number, "Lay All Your Love On Me" with a shirtless Cooper, is almost pornographic.
But the two having the most fun throughout are Donna's gal pals, Rosie (Julie Walters) and Tanya (Christine Baranski), who are there to answer Donna's S.O.S. when the men reveal themselves. Starting with their hilarious rendition of "Chiquitita," the two only stop long enough to take a breath before they're off again on another caper. Baranski might have been the only actor cast more for her singing voice than her reputation. Talent-wise, she's an octave above the rest.
MAMMA MIA!

Starring Meryl Streep, Christine Baranski
Rated PG-13
108 Minutes
Opens Friday
At Area Theaters
The one actor definitely not cast for his vocal abilities is Brosnan. As Bond he might have saved the world, but as a singing maybe-father, he can hardly save face.
Some of the numbers like "Super Trouper," featuring Streep, Baranski and Walters dressed up like they're in the Australian desert with Priscilla, are just mediocre. Others, like "Dancing Queen," "Gimme! Gimme! Gimme!" and "Voulez Vous," are outstanding.
Mamma Mia! is not a great movie — it's never going to go down in the annals of time as cinema that redefined the musical genre. In fact, if the music wasn't already so familiar, it wouldn't be all that much fun. However, it does make for almost two hours of unadulterated joy and there's something to be said for that. So thank you, ABBA, thank you for the music.