For native Washingtonian-turned-New Yorker Brad Oscar, The Mystery of Irma Vep is more than just a play, it's a homecoming.
"Ironically, one of my first professional theatergoing experiences, when I was around 7, was going to Arena Stage," recalls Oscar, who stars alongside J. Fred Shiffman in Arena's current production of Irma Vep. "My parents took me there to see the musical version of A Raisin in the Sun, which was called Raisin. [It] tried out here before it went to Broadway."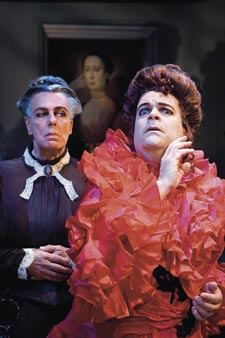 Brad Oscar (right) in 'Irma Vep'
Arena's artistic director Molly Smith describes The Mystery of Irma Vep as "carefully-crafted lunacy from the brilliant mind of Charles Ludlam." Indeed, the two-man, multiple-character show consists of impossibly fast costume changes as scenes race along.
The New York Times once described the late Ludlam as "one of the most prolific and flamboyant artists in the theatre avant-garde." His Irma Vep is a classic and remains "special," says Oscar, "because it's two actors who are playing upwards of eight characters. It's a [satire] on the gothic melodramatic movies and literature…and something that you can only experience in the theater.
"Ludlam's whole mission statement was that you should be able to be playful," continues Oscar. "Sometimes in the text he doesn't give you a lot of information or clues or helpful hints on how to do this, because he wants the actors to sort of find their own way. He wants you to have to discover how to do the piece.
"That's part of what he left us as a legacy: These pieces that live and breathe, and should be explored in different ways."
The Mystery of Irma Vep runs through July 13 at Arena Stage, 1800 S. Bell St., Arlington. Tickets are $47 to $66. Call 202-488-3300 or visit www.arenastage.org.