Ebone Bell's career path is more like a multilane highway.
She's been a drag king with her alter ego, E Clef. She gave D.C. the Queer Women's Prom and the Capital Queer Prom. And, with Brianne Croteau, the 26-year-old has crafted B.O.I. ("Bringing Our Ideas") Productions as an event-planning business for the GLBT community. That's on top of her day job as an advertising manager for the Chronicle of Higher Education.
And then there was the time she was slinging lattes at Disney's EPCOT Center.
None of these feathers were ever part of the hat she imagined she'd be wearing. An editor at her high school newspaper at Montgomery County's Sherwood High School, Bell says her plan was a career in journalism. Second thoughts led her to change her major to advertising at the University of Maryland, College Park — a handy skill set to have when you're promoting events like B.O.I.'s "Ladies First" weekly Wednesday party at Fab Lounge.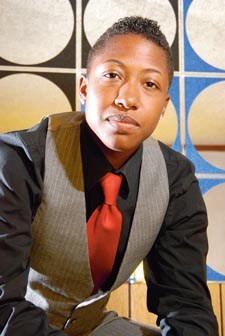 Ebone Bell
Bell says, however, that she's not promoting anything for the money. She insists it's all about her love for the community. One in Ten acknowledged as much at the GLBT arts organization's May gala, presenting B.O.I. Productions with an Appreciation Award, "especially for their events for women of color and younger women," says Margaret Murray, executive director.
Bell and B.O.I. Productions have been involved with a number of GLBT organizations, from Women in the Life and the Wanda's Will Project, to the Youth Pride Alliance. It's a full load to carry, but the dynamic Bell shows no signs of slowing down.
METRO WEEKLY: Washington knows you as a promoter, a drag king and an activist, but you had set your sights on being a journalist. You didn't stick with it?
EBONE BELL: I didn't. I went to West Virginia University for one semester. They actually have a really good journalism program, and they gave me a partial scholarship. But like any teenager going to college, you get there and you're like, "Wow, is this really what I want to do with my life?" I started having second thoughts: "Really, what's my passion? What am I into?" That's when I decided to change my major. But I was only there for a semester before I decided to do the Disney World College Program.
MW: What kind of program is that?
BELL: It's basically a "live, learn and earn" program. We all lived in this apartment complex [in Orlando]. They housed you and you got paid, and you had to work at Disney World. You also take a couple courses through the University of Central Florida, if you choose. I chose to. I took an advertising class.
MW: It sounds like a season of The Real World.
BELL: Pretty much. It was a bunch of students from all over the nation. We had some international folks, too.
MW: And you got to be the sassy lesbian?
BELL: [Laughs.] You know what's funny? I wasn't really out then. I wish I was — trust me, I do.
MW: Because you had cute roommates?
BELL: Yes, cute roommates, friends I made — who were also very questionable. But none of us were out then. This had to be when I was 20.
I had a blast at Disney. I worked at Fountain View, which was very much like a Starbucks. I was stationed at EPCOT. We all got placed at different jobs. Some people got some crappy jobs in hideous outfits. Some people ended up being clean-up crew. Some people ended up working rides.
They paid us the bare minimum wage, so I didn't really save anything. At the end of the program, a few of us decided, "Hey, why don't we go skydiving?" So the money that I did save, I wound up spending on skydiving.
I had a blast [at Disney]. The biggest thing I got out of it was getting to meet people from all over the country and from all over the world. I know that sounds very cheesy, but it's true. That was one of the best experiences I've ever had.
MW: How do you get from EPCOT to B.O.I. Productions?
BELL: A while back, maybe five or six years ago, I started doing events — just freelance, no contracts or anything formal. My mother owns a daycare center. A lot of times she'd have open houses or basketball camps, and she would say, "Hey, Ebone, I need your help." So I would organize these events, do these open houses for her where I'd have a live petting zoo, balloons, clowns — I'd organize this whole event for her.
At the same time, I was with the D.C. Drag Kings. With them, I produced a couple of shows and fundraising events for the drag-king calendar that came out in 2005.
I just started seeing myself doing these events. And I thought, "This is something that I actually have a passion for, that I love doing. Why not actually make it official?"
The cherry on top was the [2006] Queer Women's Prom. Maybe about two years before the event, I kept saying to people, "You know what would be a really great idea? If someone could have a second-chance prom for the gay and lesbian community." I kept running the idea past friends, and they kept saying, "That's a great idea." So, finally, I said that instead of talking about it, somebody needs to [do something] about it. And that somebody needs to be me.
MW: What is your title with B.O.I?
BELL: It's funny you should ask. We just had our quarterly meeting [and had] a lot of restructuring. I am now the chief operating officer. I oversee a lot of the negotiations, the contracts, hosting the parties. I'm basically the face of B.O.I. Productions.
There are three of us. Myself and Brianne Croteau, we are technically partners. Brianne is the chief strategy officer. We recently added Linda Robinson, who is our street-team coordinator. We created a "street team" for our parties so people can go out there and flier and promote our events. That's more of a perk. I wish we were able to pay people at this point, but we just started recently. They help us out and they can get into events for free or we'll be able to give them a bar tab. What they get depends on the event.
MW: When you say you and Brianne are partners, is that in both the business sense and the romantic sense?
BELL: [Laughs.] No! A lot of people think that. That's the reason we decided to change our titles. Before, we were just calling each other "partner." It gets very confusing in the gay community. We needed titles to allow people to really understand who we are, what our roles are.
I was "E. Bell Productions" for the Queer Women's Prom. Afterward, we joined forces. Brianne has extensive knowledge and experience in event planning. She's also a very good friend of mine, and someone I can work very easily with. We decided to go ahead and join forces.
MW: What sets a B.O.I. Productions event apart?
BELL: The events are diverse. People always throw that word around, but we take it very seriously. If you go on our MySpace page and see photos from our last Ladies First event, it was diverse by age, by gender and by race.
I think that people are attracted to the people who throw the party. Brianne is white. I'm black. Yeah, yeah, yeah, "ebony and ivory." [Laughs.]
Our focus is on the women's community, because right now I think there needs to be more focus on the women's community. But when people meet us they genuinely see, "They have all these people at their party."
I know how to communicate with gay men. I know how to communicate with African Americans and women. I think they can all see that we actually do care about the community, through our events and how we talk to people, how we interact with people.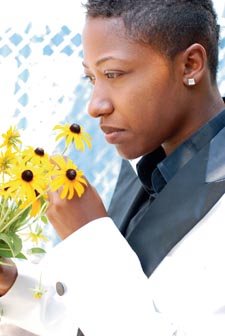 MW: What did you learn from throwing those first parties, the petting-zoo fun at your mom's daycare?
BELL: That it's a lot of hard work, but it's very gratifying. That's why I'm here, doing what I'm doing.
In order for an event to be successful, you have to put in a lot of work. I always joke that's why I don't have a girlfriend, because my work comes first. It's a priority.
There are two reasons I have this work ethic. One, definitely my mother. Two, I'm a diehard Capricorn.
I'm very lucky. I had a mom, a dad, I lived in Olney, Md., in a nice house. I had things that maybe other people didn't have. But my mom still taught me that I had to work for things, because she didn't have it that easy growing up. She wanted to make sure I understood that, and that I didn't take anything for granted. I still pride myself in that today. I will not ask my parents for money. I'd rather be broke and not be able to eat all week than ask my parents for money. It's just something I can't do.
MW: When did you come out to them?
BELL: I remember it clear as day. It was maybe my first semester at the University of Maryland. I'd been struggling and dealing with this issue: "How are my parents going to feel about this? How are all my new friends going to feel about this?" I finally just did it.
I remember calling my mom. I was in my room at College Park. Luckily, my roommate wasn't there. I just picked up the phone and my mom picked up and I just started crying. She kept asking, "What's wrong? What's wrong?" I said to her, "Mom, I don't want you to be disappointed in me. I don't want you to be disappointed. Mom, I'm gay. And I don't want you to be mad at me." She said, "How could I be mad about something I already knew?" That made me feel a lot better.
She actually came down that night. She said, "I'm going to come down and see you. Let's go get something to eat." We ate and just chitchatted. That night was really random, but not everyone can say that their parents were so accepting. My mom seemed very accepting, but after that we had a little bit of a rough patch. She comes from a different generation, obviously, than I do, and a religious background.
MW: Did that get resolved?
BELL: [Yes.] My mom has performed with me. When I used to perform at Chaos, we did a live number. I just said, "Hey Mom, I have this show and I'm singing and I'd love to do 'I'll Be There' with you." How corny is that?
She was really excited about it. She got up there and she performed. I think it was really good for her. It was great for people in the audience.
Afterward she was crying, she was just bawling. I think she saw how her being there impacted everyone. A couple people came up to her and said, "You know, I haven't talked to my mom in ages, and I just want to say thank you for being here," and gave her hugs.
Not everyone can say their parents are still in their lives. I think it really hit her to see, "Wow, I do make an impact on my daughter's life, just because I'm here."
MW: You said that show was at Club Chaos, which has since closed. As a promoter, how would you describe the state of D.C. nightlife?
BELL: I'll have to focus on the women's community with this. There are obviously a lot of bars and clubs for gay men, which is great. But with the closing of Chaos, the close of Liquid Ladies at Apex, and the closing of Edge, women are scrambling to figure out what's next.
What has happened is a lot of promoters, or wannabe promoters — I hate to say that, but it's true — are trying to cash in on the Chaos crowd and the Apex crowd.
Right now, the worst thing that's happening in the women's community is that whether we know it or not, we're competing against each other when we need to join forces. We need to sit down and figure out what the women's community needs in D.C. and how can we all work together to strengthen it? It doesn't all have to be through clubs. We get an older crowd sometimes. Those are the folks who go to our more social, non-club events.
Maybe four or five years ago, there was always something to do for the women's community. Why is that not happening anymore? The competition, the lack of communication.
There's one club for the women's community — Phase 1 — which is great and they continue to do great things for the women's community. But there need to be more options, in different locations.
MW: Is it harder to market to the women's community? With gay men, you can probably just hang a rainbow flag and offer a drink special, and you'll get a least a couple guys on the barstools. Is it harder to get women to go out?
BELL: Yes. That's another thing we continue to deal with. The women's community is completely different from the men's community. You can stick up a rainbow flag or a shirtless man on a flier or the front door and — bam! — you're good to go.
With women, you really have to target your audience. I don't want to give too many of our secrets away, but women are a semi-finicky group. And we're not consistent. What I mean by that is we'll have a [monthly] party, and then it closes three months later and there's nowhere to go. We're not consistent because we'll go out to a club, we'll support that place, but after awhile it's like, "Enh. I'd rather stay in with my girlfriend or my partner. Or my cat."
MW: So it's more difficult to make money promoting parties for women?
BELL: It definitely is, but I don't want anyone to think we're in it for the money. The foremost reason we do it is because we're trying to give women a safe, comfortable place to go.
A lot of times when we try to have parties at straight venues, they don't get it. For example, we had a party at Adams Mill [Bar and Grill] for Girl Confidential every Saturday. It was great! But the last straw for us was, "Oh, we have your back, we won't let anybody up on this third floor unless they're female, or a male escorted by a female friend."
Somehow, security had disappeared. We had the third floor, but the next thing I know, these men, who were drunk, were taking pictures and video footage of the lesbians dancing. That's a no-no. That's not good for business. I don't want anyone who comes to our parties to ever feel like they can't be themselves or be safe.
[Adams Mill management] just didn't understand. That was the number one thing we said to them: We need to create a safe environment for these women. And they didn't do it. That's not the first time that's happened at a straight establishment.
MW: Is Fab Lounge a good fit?
BELL: It's amazing. I couldn't ask for a better working relationship. The owner is in our court. He sees it.
Every now and then I'll get down about things, because I want everything to happen overnight. That's just how I am, but I've learned to be a bit more patient. He's very patient and very positive. He sees the place being the Wednesday place for ladies. I know it will happen, and he sees that too. He treats everyone with the same respect no matter how you look, no matter what you have between your legs. That's all I can ask for: to treat the people who come out with respect. It's a simple solution, but you don't get that everywhere.
MW: What's been the worst thing to happen at a B.O.I. event?
BELL: [Laughs.] Oh, God. I flip out on anything. I have panic attacks. Everything has to be perfect, perfect, perfect. So, to me, it could be anything.
I guess the worst thing was at the past prom. It was a learning process. We had to communicate with our DJ about how big the room was, how big her speakers needed to be, what have you. But she didn't purchase the right kind of speakers and an hour into the prom, she overloads them.
As you can imagine, I was running around like a madwoman. Luckily, we had a great techie and she ran over to the Lincoln Theatre and they lent us two speakers. [Laughs.] That's the worst thing that's happened.
But, again, it's amazing the type of people that we get. People came up to us and said, "Hey, don't worry about it. We're having a great time." People didn't even notice, because we had other things going on.
MW: And you recovered?
BELL: We recovered, but rest assured that won't happen again. I'm going to have backup for my backup.
MW: Which event came together perfectly?
BELL: The Queer Women's Prom, the first prom. I did it by myself and it took a lot of work, added a lot of gray hairs. But during the prom, I stopped and looked out across the sea of women and said to myself, "I did it."
That just solidified everything for me, that this is what I'm supposed to do. It was the best feeling. Any true event planner, promoter, producer, will tell you that the most gratification they get is to see their patrons or clients having a great time.
A lot of times, there are people who aren't really genuine with what they do, or promoters who are just in it for the money. We're a different breed of promoter. We don't just throw parties. We really stay active in the community to create unique and social events throughout the year for everyone. And we do it because we love it, we love D.C., and we want to see the gay community flourish.
Visit B.O.I. Productions online at www.eventboi.com and www.myspace.com/queerwomensprom.