Bella Stassi is proving that girls of all ages still just want to have fun.
"Our event is different because we're not targeting one specific crowd," says Stassi, lesbian promoter of the Ladies Tea, Baltimore's monthly dance party for women at the Hippo. "We're not going for the 18 to 25 crowd. From going to some of the younger parties, it seems like they're targeting more of the younger crowd, but we have lesbians of all ages." The age range at her tea dance is typically from 21 to 75.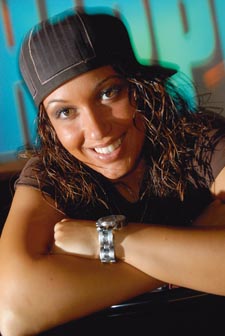 Bella Stassi
Regularly spinning at the monthly party, the next of which is scheduled for this Sunday, Aug. 3, is DJ Rosie, popular for mixing a blend of hip-hop, Top 40 and pop.
"She's been in the community for a while," Stassi says. "The crowd seems to enjoy her."
Stassi and her production company, Bellezza Productions — "bellezza" being Italian for beauty — took over the monthly tea dance in March, marking a change in the event's 12-year history.
Stassi added her own touch of beauty with themed events, like June's "Taste the Rainbow" party to commemorate Baltimore Pride, and the upcoming "Heaven or Hell" night planned for October. The theme for the Aug. 3 party is "Sexy Sunday."
Stassi is dong all she can to make community activism sexy, by hosting parties with a purpose and getting people involved.
"Since I've taken over, we're starting to get really involved with Equality Maryland," she says, adding that she'd like to see her parties contribute to the effort to make same-sex marriage a Maryland reality.
Helping with Bellezza's community-focused profile is the mono-named Rachel, who won the title "Miss Ladies Tea" in May by audience vote. Miss Ladies Tea will be the face of Bellezza Productions at various events throughout the year, including the Baltimore Pride Parade. At the end of the day, however, it's still about the party, not politics.
"Our main goal is to just have everyone out and everyone together," Stassi says. "We have great drink specials and we have incredible music and a great light show."
Ladies Tea is held on the first Sunday of every month at the Hippo, 1 W. Eager St., in Baltimore, from 7 p.m. to midnight. Admission is $6. Free from 7 to 8 p.m. 21 and older. Visit www.clubhippo.com.