Eric Hegedus didn't really need the National Lesbian and Gay Journalists Association — but, oh, how he wanted it.
A 1984 graduate of Penn State, Hegedus found himself working in Upstate New York at the Binghamton Press & Sun-Bulletin when he first heard of NLGJA in the early 1990s. He says he didn't face any homophobic hurdles at work such as insults or biased Sun-Bulletin coverage, but his curiosity was nonetheless piqued by this nascent organization.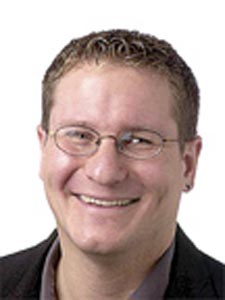 Eric Hegedus
In 1993, with the national convention just a few hours away in New York City, he was able to quench his newfound thirst.
"I'd read an article about [NLGJA], then went to the convention and absolutely loved it," he says. "This was before the Internet had fully caught on, so you could feel a sense of isolation."
A least for a few days, that isolation melted away as Hegedus mingled with his professional GLBT peers from around the country.
"It was a big deal. That was the impetus for me to join the organization."
Though he may have joined, he still lived hours from the closest chapter, situated in New York City. Despite an attempt to start an Upstate chapter, Hegedus remained largely isolated from other GLBT journalists. A 1996 job offer at the Philadelphia Inquirer — resulting from a networking connection forged at that 1993 convention — allowed him to make up for lost time. It also allowed him to grow in ways he says he had not previously thought possible.
"I became president of the [NLGJA] Philadelphia chapter in '96," he says. "I had no set idea to become chapter president, but some people recognized something in me that I didn't see in myself: leadership ability, an ability to organize. People suggested I step up, and I did. It changed my life."
It's impossible to quantify exactly how much Hegedus gained from the public speaking, fundraising and other attendant duties of being a chapter president, but these years later, at 46, he serves as NLGJA's national president and works for the New York Post as an editorial designer.
As he is such a passionate booster for NLGJA, it's hard not to feel at least a touch of sympathy for Hegedus, whatever his successes, knowing that the 2008 convention marks the end of his presidential term.
"I'm certainly melancholy about stepping down," he says. "We accomplished a lot, but not everything. It's going to be interesting to take a backseat on things — much more of a backseat. But I'm looking forward to freeing up some brain space."
Though he jokes about freeing up mental real estate, Hegedus is serious when he recounts accomplishments the NLGJA has made, as well as where he thinks resources might be best directed after he no longer has as great a say in those decisions.
"One of the things I've especially pushed is talking about outing," Hegedus says. "I think it's still relevant. Journalists need not be afraid to talk about someone's orientation. There's always been a hesitation. We'll ask if someone is married, if they have children, but not if they have a partner. You still have an invisibility factor."
Positive points Hegedus points to are the NLGJA conventions' LGBT Media Summits as evidence of the organization's outreach to and support of gay media, as well as more offerings for TV journalists.
And the future may see substantially more NLGJA involvement in support of those Bs and Ts not mentioned in the acronym.
"We won't take a more active role in politics, but we will remain very active in coverage," he says. "Transgender issues? Absolutely. Transgender individuals are showing up on America's Next Top Model, on P. Diddy's reality show, really hitting mainstream culture.
"Another prong is bisexual individuals," he continues. "People aren't asked if they're bisexual. We've heard, 'They just haven't decided yet.' It's very disrespectful."
Regardless of what NLGJA involvement Hegedus may have in the future, there's no doubting that he'll do what he can to repay what NLGJA has done for him.
"I still remember the '93 convention so vividly, realizing the world was so much bigger," he says, "I just felt this passion for everything the organization was about. This organization is about so many different people of varied backgrounds. [In 1993,] I thought, 'I'm part of that.' I want to help the organization as much as possible."