In January 2006, the United States voted to block recognition of two GLBT groups at the United Nations, following the lead of the Iranian delegation. In April 2007, Secretary of State Condoleezza Rice, the head of America's foreign-affairs efforts, acknowledged the mother of a gay man's partner during a swearing-in ceremony as his "mother-in-law." In the January 2008 issue of The Advocate, openly gay former-Ambassador Michael Guest talked about his recent retirement from the State Department due to unequal treatment of gay employees.
One might wonder if those with their hands on the levers of U.S. foreign policy are experiencing some sort of identity crisis. But with domestic battles about marriage, the military and transgender anti-discrimination protection taking center stage, America's GLBT community might not necessarily be paying much attention to what plays out on the floor of the U.N. General Assembly or the U.S. embassy in Bucharest.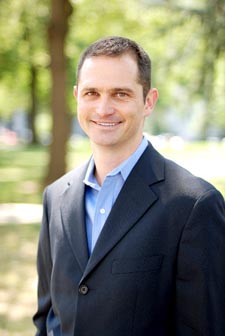 Mark Bromley
"Obviously, the LGBT community here is properly focused on securing the rights and protections that we need domestically, and that has to be the priority," grants Mark Bromley, known by some in the local community for his human-rights work, and by others as one of the four entrepreneurs behind "Rehobus." His international human-rights credentials go far deeper, however, than his business credentials.
"The reality is that the U.S. government is such an important and critically powerful actor on the international stage, that it's important for the domestic LGBT community…to recognize that the U.S. government has not shown leadership on [GLBT] issues internationally and has, at times, even blocked progress on these issues."
For the past year, with his LGBT Foreign Policy Project, Bromley has been trying to change that, conducting focus groups and other types of outreach and research to help the nascent organization find its footing. Re-launching this fall as the Council for Global Equality, that commitment to influencing U.S. foreign policy — as well as policies and practices abroad of U.S.-based corporations — to promote GLBT equality is about to take a big step.
"At this point, we have the Human Rights Campaign and the National Gay and Lesbian Task Force," Bromley says, ticking off those groups signing on to support the effort, and mentioning a new grant from the Arcus Foundation. "We also have Out & Equal [Workplace Advocates], the National Center for Transgender Equality, and…Heartland Alliance. By the time we really launch in September, I anticipate Human Rights Watch will be a member. Amnesty International [USA] has agreed, Global Rights has agreed and Human Rights First has agreed."
With a little luck and momentum, the group may soon be able to add some office space to the formula. In the meantime, with some help from Michael Guest and Julie Dorf, founder of the San Francisco-based International Gay and Lesbian Human Rights Commission (IGLHRC), Bromley has not been wasting any time. June 23, for example, found him briefing the new Congressional LGBT Equality Caucus on Capitol Hill.
"The caucus is a great new resource within Congress, and that one of the first briefings was on international issues was significant," says Bromley, who worked with the office of Rep. Tammy Baldwin (D-Wis.), a lesbian, to organize that event. He says his remarks that day focused on the State Department's annual cataloging of human-rights abuses around the world, including those against the GLBT community, and its failure to trigger any policy responses.
"It doesn't trigger funding that would go to support LGBT activists or organizations. It hasn't triggered significant diplomatic interventions…in countries that have significant concerns. It hasn't triggered any meaningful effort to raise issues of criminalization or harassment [of GLBT people] with visiting dignitaries when they come to Washington.
"It's time to move from a 'reporting agenda' to a 'protection agenda,"' he concludes, offering a taste of where his council is headed. The council's future aside, Bromley's past also offers some insight into the culture of this new organization.
A trip at the age of 10 to visit his divorced father left a pivotal impression on his young mind. Traveling thousands of miles as an "unaccompanied minor," Bromley landed in Cairo — a far cry from his native Rochester, N.Y. There he was exposed to the wonder of an alien culture, but also to extreme poverty. Those impressions sparked an interest in foreign culture as well as U.S. foreign policy, so much so that when he entered college, it was as a student at Georgetown University's School of Foreign Service. There, in the late 1980s, he worked on a program with El Salvadorian refugees.
"I learned more about the human-rights atrocities in El Salvador at the time and, unfortunately, about the very harmful role the U.S. government was playing in terms of propping up the government that supported those atrocities," he says. "That really opened my eyes to the power of the U.S. government and to our responsibility for the human-rights landscape in many countries and our responsibility as citizens."
Bromley, 40, followed his foreign-service degree with a law degree from the University of Virginia, as well as study in Japan, teaching in Switzerland and human-rights work in Haiti — his last post before returning to D.C. to work for the group Global Rights, for whom he fostered projects in Bosnia, Liberia, Nigeria and Sierra Leone. Today, the time not spent fighting for human rights goes to his husband, David Salie, an attorney and political activist, with whom he lives near D.C.'s U Street corridor.
Domestic bliss may have to take a backseat, however, as Bromley gears up for the re-launch of the Council for Global Equality. After all, Bromley cautions, those who do not care for GLBT equality have had a head start.
"The human-rights bureau in the State Department hears far more often from socially conservative organizations that are concerned about family planning, abortion rights and other hot-button social issues — including LGBT issues," he warns, "than they hear from LGBT groups." For the time being, perhaps.
For more information about the Council for Global Equality/LGBT Foreign Policy Project, visit www.lgbtfpp.org.