The Halo experience, always one of lounge-cool relaxation, has since mid June added to that ambience with a hint of sommelier sophistication. With the help of Molly Flannigan of Winebow, a leading wine importer and distributor, Halo DC is offering wine tasting on alternate Mondays. Targeting a different wine region at each gathering, wine enthusiasts enjoy three reds, three whites, accompanied by a selection of gourmet cheeses and fresh fruit.
"Molly gives you all the information," says Halo general manager Scott Passey. "She puts together a little book for each wine tasting, listing the vineyards, the flavors, pictures of the labels…. It's very well organized."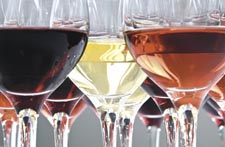 Passey adds that the wine tasting, held in Halo's newly refurbished second-floor lounge, has proven so popular that they're adding them at Halo Miami. The next D.C. tasting, however, goes quite a bit farther south: wines from Chile.
Halo, located at 1435 P St. NW, offers wine tasting from 6:30 to 8:30 p.m. on alternate Mondays. The cost is $25. The next tasting, featuring wines from Chile, happens Monday, Aug. 25. Visit Halo online at www.haloloungedc.com or call 202-797-9730.