Moving back to D.C. after seven years away, Jim Gade knew, for the most part, what he was coming back to. That doesn't mean he didn't miss what he was leaving behind to return to the nation's capital.
Reminiscing about Dallas' Hidden Door bar, Gade says: "Most cities seem to have beer busts on Sundays. In D.C., there are not a lot of events on Sundays. Lizard Lounge has come back and there are bars, but there's not really anything catering to a different, slightly older crowd."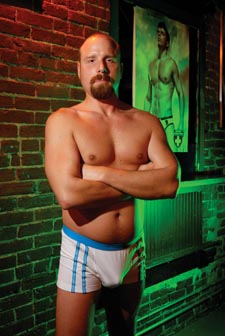 Jim Gade
For Gade, 38, the Hidden Door's Sunday "beer busts" — with a somewhat older crowd of regular, gay fellahs filling that Dallas venue to capacity at times, spilling out onto the bar's patio — were a regular fixture.
So what's a transplant from Texas to do? Pulling from those Hidden Door days, along with a mild foray into underwear parties in Texas and Provincetown, Mass., he concocted "Pakt" to fill the gap. Started a year ago as an underwear party at the now defunct Titan's Ramrod, today Pakt is a holiday happening at the Green Lantern with a more casual notion of what to wear.
"We kind of moved it away from a general underwear party," says Gade. "Now it's more, 'Wear whatever you want, do whatever you want.' It's more easygoing. It's leather, shirtless, bear.
"It's a very friendly crowd," he continues. "People tend to be social, not afraid to talk to each other. It's a smaller venue, where you can hang out and relax. There's different music than you're used to hearing. It's a totally different vibe. It's not overtly sexual. It's very relaxed."
While Pakt may not be raking in the kind of money that would allow Gade to quit his day job as an IT technician, he doesn't seem to mind. "It's definitely more a labor of love," he says. "But doing the promotion work has helped my business skills." And when a guy can promote an underwear party at a venue with a largely male clientele and get women to show up, he must be on to something.
"In April, we had a group of women and it was pretty fun. They were running around in bras."
Although Pakt now caters to every style — many of which include pockets — those planning on stepping out in their Skivvies may still wonder where to stash their cash.
"Most people keep it in their socks," says Gade. As for those bulky key chains, you'll just have to be creative.
The Pakt one-year anniversary party is Sunday, Aug. 31, at the Green Lantern, 1335 Green Court NW. Doors open at 6 p.m. Cover is $3 and includes clothes check. Visit www.paktonline.com or www.greenlanterndc.com.