It takes a certain kind of style to make ugly an asset, a style generally limited to small dogs and Subarus. Toyota's (supposedly) youth-targeted brand Scion has been making some impressive gains in the field of desirable ugliness, particularly with its boxy xB line — an overgrown Sluggo, ugly as all get out, yet still possessed of charm.
The funny thing is that the new xB is actually far less ugly than its more angular predecessor, even as Toyota/Scion has launched an ad campaign built around the car's love-it-or-hate-it design. Hard edges have been smoothed over — the hood now rolls easily downward into a plastic grille marked by playful circle cut-outs. The more extreme headlights provide more character than the previous rectangular ones. But looked at from the side, it's clear that xB is as slab-like as a side of beef.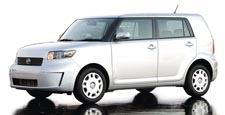 Scion xB 2008
That oddly boring yet compelling profile is the direct result of the xB's primary asset — you can haul around a lot of crap in it. For years people have rationalized the purchase of giant SUVs by focusing on their roomy cargo areas. I suspect 75 percent or more of the Land Rovers and their brethren cruising around the Beltway have never seen anything larger than a load from Whole Foods or a shopping spree at Tysons. Both of which the xB handles well.
2008 Scion xB
MSRP: $17,370 MSRP; $18,579 as tested
Gas mileage: 22 city/28 highway
Highlights: Distinctive styling combined with practical cargo space make for high utility in small package; direct iPod intergration.
Lowlights: Distinctive styling may wear on you over time; ride is solid, but edges toward rough.
The Scion showed up the day that I was catering a wedding for about 45 people, so I decided to test that hauling capacity. I got everything in, including boxes of platters, coolers of food, and bags of tools and uniforms. The only thing that had to go separately were the 4-foot-tall foliage arrangements — the xB has a lot of width and depth, but with the back seats folded down to increase space, it still lacks a little bit in height. But it's not anything different than what you might find in a Subaru Outback or Forrester.
The driving experience for the xB has improved with the redesign — it feels far more solid now, if a little rough. The excellent iPod integration is a plus, though Bluetooth would be a nice standard bonus. As it is, I was sorry to see the charmingly ugly little bastard leave my driveway. He does tend to grow on you.