Normally, there is nothing more irritating (to some at least) than a creative work that feels the need to announce itself upon arrival, to clarify for its potential audience exactly what it is and what its purpose is intended to be. Alice Sebold's Lucky was not simply a book but, as the title stated in a graphically pleasing, clean-lined font, "a memoir." As in Lucky, a Memoir.
We find "a novel" tucked artfully into one of the architect Frank Lloyd Wright's signature designs on the cover of Nancy Horan's book Loving Frank, A Novel. Larry McMurtry did it when titling his Books, A Memoir. Someone else brought Water for Elephants: A Novel. And, of course, Eat, Pray, Love: One Woman's Search for Everything Across Italy, India and Indonesia.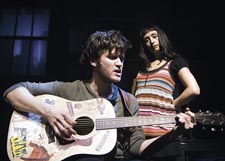 It's a little compulsive really. A bit of self-conscious clarification to make certain the readers know exactly what they're in for. And it's also a bit limiting. In this post-Million Little Pieces world, the story of A Wolf At the Table: A Memoir of My Father can be brilliantly written but it had better be flawless and, you know, have actually happened.
In a few cases though, this subtitling strategy manages to work. This is the case with ROOMS a rock romance, now enjoying its world premiere at Alexandria's MetroStage. That little bit of flourish, the potentially groan-inducing "a rock romance" (even more dangerous in that it appears so hipster-like in all lowercase letters), belongs because it describes not simply the genre of the show's music, but the attitude of the performance. There is a spontaneity at work here, an un-choreographed and loosely directed energy that has all the texture and sweat of a garage-band show at some overcrowded, downtown bar.
Monica (Natascia Diaz) and Ian (Doug Kreeger) first meet in Glasgow where Monica is a good Jewish girl from the right side of the tracks (or whatever it is they have in Scotland to divide the comfortable from the down at heels) with dreams of being the Scottish Barbra Streisand. Ian is a painful introvert who prefers staying in his room and playing the guitar. The two meet and, as often happens in musicals, find love, stardom and tragedy in short order and with time for a reprise.
It's the rough edges of the music that make ROOMS an interesting night at the theater. The fine performances of Diaz and Kreeger are rich and have the glow of a well-worn leather jacket. Kreeger takes the stage as quietly as his character, with a stealthy, charismatic presence, and a voice that goes from boom to whisper to nothing. He's a man in complete control of his instrument and it allows him to achieve some of the show's most compelling and evocative moments.
Diaz is an atomic bomb. She is bright and dazzling and when she opens her mouth she floods the theater to the back row. She's a rocker chick to the soles of her knee-high, lace-up boots. In a theater with slightly less precarious seating her performance of "Bring the Future Faster" would bring people very quickly to their feet.
And while the duet "I Love You For All Time" is a lovely ballad, "Scottish Jewish Princess" is "I Kissed A Girl" with a safety pin. Here's to it hitting iTunes very soon.
The disappointment with ROOMS is that great music and performances are left hanging on such a slender wire. The story is predictable — brutally so — and seeks to break no new ground. The authority of the music and strength of Diaz and Kreeger gives such a maneuver a fair amount of leeway, but not enough to justify this as a fully formed musical. One wonders what its fate will be when it leaves the hands of actors as skilled and able as Diaz and Kreeger. In the end, ROOMS actually seems more like a well-written concept album put on the stage.
Of course, the creators of ROOMS only promised us a rock romance, not a musical.
---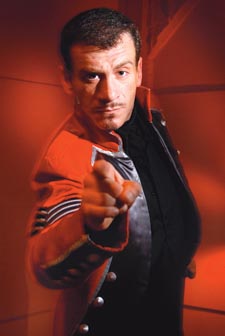 Bobby Smith as Satan in 'Jerry Springer: The Opera'
One wonders if any voice teacher ever paused to consider that one day his bright-eyed chorister would use her angelic voice to issue forth a torrent of language so obscene it might cause PBS' Great Performances to issue a restraining order. Sure, the singer would do it beautifully, with the kind of power and skillful choral grace normally reserved for Italian love stories and Greek tragedies. But, instead, she would be calling a woman a whore (though not as nicely) and threatening talk-show hosts with barbed-wire sodomy.
Studio Theatre has gathered a collection of these outrageously talented singers — the ones whose parents perhaps dreamed of one day seeing them singing at the Met — and has instead put their sizeable talents behind a production of Jerry Springer: The Opera. And there really is a fair amount of opera going on in this show, though there are also the sounds of a Southern tent revival and some bright, musical-theater tunes accompanying the fancy footwork of a troupe of tap-dancing Ku Klux Klansmen.
Yeah. That's right. Tap-dancing Ku Klux Klansmen. It is Springer after all.
Springer: The Opera opens on the set of the popular television host's show and closes in hell. Along the way we meet a diaper fetishist, a philandering fiancé, an aspiring stripper, Adam and Eve, Jesus and, of course, Satan.
The production boasts some strong performers, most playing dual roles. Notable are Bobby Smith as Satan and Aaron Reeder as the transgender Springer guest, Tremont. Florrie Bagel does a surprisingly moving turn as the fetish-enabling Baby Jane while award-winning actor Lawrence Redmond toes a steady line as the show's non-singing straight man, Springer.
Like the Springer television show Jerry Springer: The Opera wants us to think that it has a deep message to share. But like its television counterpart, the gross spectacle of this musical is the real reason to tune in.