Born just a few months apart and thousands of miles from each other, both John Aravosis and Andrew Sullivan today call Washington home. And both exemplify the heights of blogging, gay or otherwise. Sullivan has a reputation for ringing in from the right, while Aravosis is as staunchly red-white-and-Democrat as they come.
Despite their local addresses, recent weeks found Sullivan summering in Provincetown, as is his habit, while Aravosis did the hard work of apartment-sitting in Paris for a fellow blogger.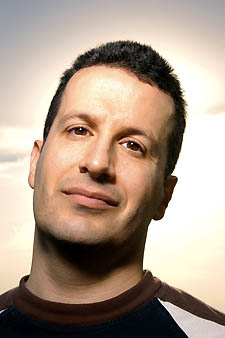 John Aravosis
Their parallels draw only more contrasts. Aravosis' AMERICAblog site seems to be a very hands-on, grassroots affair. Sullivan's "The Daily Dish," on the other hand, has a slick, stylish presence on The Atlantic.com, complete with adorable caricature by The Atlantic's Terry Colon.
By e-mail, Sullivan describes his online operation.
"When I started, in 2000, there were only a handful of us and so it was easy to get a grip on the blogosphere. Now it's humungous and I have an assistant who scours the Web for other views, and drafts some links for me, and interns who also act as 'leaf-cutter ants' finding nuggets of fact or opinion…. But in the end, it's all me and only me. It all goes through my frontal cortex and typing fingers."
Aravosis, speaking by phone from Paris — and noting as an aside, judging by the technician installing fiber-optic cable in his friend's apartment at the time, "The cable guys are a lot hotter in France" — describes something a bit more rough-and-tumble.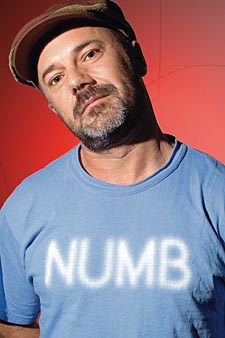 Andrew Sullivan
"In the states, I'll get up late and I'll work late," Aravosis says, offering 2 a.m. as the rough end to his AMERICAblog day. "[Co-blogger] Joe [Sudbay] will get up at 7 a.m. and do the morning open thread, the morning welcome…then throughout the day we go back and forth. Up until three months ago, we had to physically put up every single thing on the site. Now, with Blogger you can schedule something to publish [later]. Previously, every hour we'd have to get on the site, which is hard if you're doing it from 7 o'clock in the morning till 11 o'clock at night. That's a big deal."
In similar yin-yang style, Aravosis and Sullivan agree that the blogosphere has been of particular use to the gay community, though for somewhat contrasting reasons. Where one sees a tool that has empowered a community, the other sees a method of humanizing gay people to the larger society.
"I think we were organized online way before everybody else," says Aravosis. "Evangelicals meet every Sunday in church and get their marching orders. We were a diaspora — we are a diaspora. You can be born gay anywhere. [Online] is the one place where we can go regularly, meet each other and gather."
Sullivan agrees that the Web has been a boon for the gay community, but his sentiment hardly sounds like an echo of Aravosis.
"The Web allows for greater candor, and candor is what helps us," he writes. "The fewer barriers to the truth getting out help us make the case for our equality as citizens and human beings. My blog has an overwhelmingly straight and disproportionately male readership. And in blogging my life and my views on gay issues as well as everything else, people can become more informed and aware of how a gay man can interact with the world. It builds familiarity — and we all know that knowing a gay person makes the biggest difference in someone's views on gay equality."
For more of John Aravosis online, visit www.americablog.com.
Andrew Sullivan's "The Daily Dish," visit http://andrewsullivan.theatlantic.com.