The ads said anything goes, or almost: "A crazy talent contest where anyone can compete and do whatever they want on stage (basically anything)." And yet, almost all eight contestants at Town's "This Town's Got Talent" competition sang. Don't you people watch America's Got Talent? Surely someone in this town can tell jokes or yodel or perform acrobatic stunts or put their hand up the ass-end of a puppet and make it talk. Town's Ed "Talent Cultivator" Bailey reminded the crowd the winner earns $1,000, while also announcing that the competition is now a monthly affair, the first Friday of every month. All $1,000-monthly victors will compete at the end of the year for $5,000. That buys a fuckload of singing lessons. Hearsay would enter, but its talent consists of balancing three martini glasses on its nose while giving a reacharound to a horse. And Hearsay isn't sure the Town folk are ready for its trademarked Mr. Ed Extravaganza.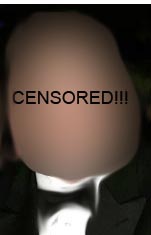 Anyway, on "This Town's Got Talent," Lena "Taking Care of Business" Lett stands in for Jerry "See More of Me at Studio" Springer, who was apparently too busy hosting his own talent show to be bothered. But who better to host than The Grand Duchess Lett? Derek "X Marks the Faction" Brown stood in for David "BabeWatch" Hasselhoff, and Shi-Queeta-Lee – Shqtl, for short – as Sharon "Potty Trained" Osbourne. And the third judge was the one Lett called the "oldest living drag queen in captivity," who "just got out of Leisure World" — Blair "Go Ahead, Squeeze the Goods… If You Dare" Michaels. The judges were given a rainbow-colored feather duster stick, which they held up when they had had enough of any one contestant, signaling a loud buzzer. Only two contestants actually got the gay gong, though the first was [IDENTITY OF PUBLIC OFFICIAL CENSORED], brought out of [CENSORED] just for the occasion, to flail about to the tune of [CENSORED] and generally make a [CENSORED] of [CENSORED]. Things really got interesting when [NAME OF PUBLIC OFFICIAL CENSORED] unsheathed his [CENSORED] and waggled it with abandon at the [CENSORED] [CENSORED] [CENSORED] [CENSORED] [CENSORED] and that's pretty much the time the gong went off.
Town's own barback — and luscious Crew Club model — Nick "Grin And Bear It" Baatz was the first contestant, singing and strumming an original folk tune, which was well and good and all, but not enough for Lett, who made him take off his shirt, too. But it was really no contest. Pam "You're Gonna Love Me" Ward, a regular wedding singer around town, who joked to Hearsay she's "waiting for her first bar mitzvah," sang the Dreamgirls anthem "And I'm Telling You." "You've got a phenomenal voice," Lett said, as the crowd wildly clapped its assent. Ward handily won the evening….