As if high school wasn't hard enough.
Imagine a private, Catholic boarding school where two teenage boys fall in love in that familiar "opposites attract" kind of way — the jock and the geek. Add to that three other teenagers dealing with their own demons: expectations from parents, friends and the church, body-image issues, isolation and popularity. Put it all together and you have bare the musical.
"It's basically the intertwined lives of a group of high school seniors," says Michael Tan, musical director of the Baltimore Theatre Project's production.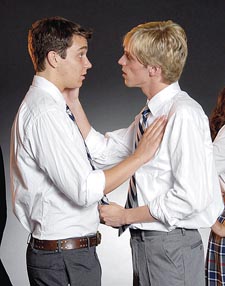 "These issues resonate heavily, still today," Tan says. "We've got kids today in schools who are being outed and abused in school because of their sexual orientation or for whatever reason they are different.
"This show really cuts the heart of issues that we all have either dealt with or deal with and the whole idea of just being able to be heard," he continues, referencing a song in the production sung by the mother of one of the gay students, after her son tries to come out to her on the phone.
"She does everything she can in this song to avoid him saying the three-letter word."
Tan first discovered a love for theater in 1985 while attending Duke University, by taking part in an off-campus community theater production of Hair in Raleigh, N.C.
Before bare, he conducted the musical direction of Zombie Prom performed by the Merely Players Theatre Troupe.
"I've only been doing musical production for the past four years now…and bare was probably the most difficult musical I have done because it had 36 numbers, 34 of which had singing, and a few of which are basically whole scenes with up to four or five different types of music and an underscore for dialogue set within them."
The Michigan native, who lives in Baltimore with his partner, Fuzz Roark, describes bare the musical as "gripping."
"I really did not listen a lot to the commercial CD," he says, "because I find that I make my own discoveries when I go back to the original text. And the music is marvelous.'
bare the musical runs through Aug. 31, at the Theatre Project, 45 West Preston St., in Baltimore. Fridays and Saturdays at 8 p.m., and Sundays at 2 p.m. Tickets are $20. For details, call 410-752-8558 or visit www.barethemusicalinbaltimore.com.