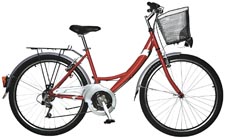 Ten years ago, bicycling commuters weren't the most common morning sight on 16th Street NW.
Things change.
"Now you will see several riders going down the street in the morning," says Chuck Harney, owner of the Bike Rack near Logan Circle and a participant in the Gay Games on Team DC's cycling group, Velo. "It would be great to get the point where the bikes commuting down the streets were the majority instead of the minority."
With more than 700 subscribers, SmartBike DC, a bike-rental program that launched in the District this summer, is helping do just that. And according to Steve Ginsburg, president of Clear Channel Outdoor of Washington D.C./Baltimore, which operates SmartBike DC with the D.C. Department of Transportation, it's never too late to sign up for a rental bike.
"We do plan on being a 365-day-a-year program," Ginsburg says. "On a snowy day, we just don't anticipate many people taking the bikes out. It's all dependent on the user," Ginsburg says.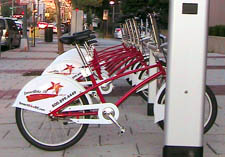 SmartBike DC's U Street location at Reeves Municipal Building
For $40 per year, SmartBike DC offers bikes that can be rented for three hours at a time, for an unlimited number of rentals, and returned to automated bike racks in various parts of the city.
"It's got a lot of great functions to it: emissions, it's a green product, it keeps cars off the road, people can take the Metro from Northern Virginia into the city then pick up a bicycle and go on their way. There are lots of reasons why it's a good program."
Harney echoes the benefits of riding a bike around the city.
"Biking is a lot easier than driving," he says. "It's stress relief, it's exercise, an easy way to get around, you don't have to sit in traffic, and most of all you're not putting a lot of money in for operating a vehicle."
Harney says SmartBike DC has not hurt business at the Bike Rack, a full-service bike shop, which offers everything from entry-level hybrids and road bikes, to high-end bicycles.
"The more bike shops you have in the city without becoming overly saturated, the better it is for bike culture, because people will start riding."
If you're on the fence about renting or buying a two-wheeler, Harney suggests testing the waters with a rental. And even though the Bike Rack does not offer rentals, the shop does allow a prospective buyer to test drive bikes before committing to buy one, which usually start at about $300.
"When somebody comes in, first we'll ask them a lot of questions about the kind of riding they want to do, the kind of bike they're looking for, and we'll fit them to it."
Despite all the perks, riders should be cautious and aware of the dangers of riding a bike in the city, Harney says.
"Unfortunately, motorists are not yet used to driving around cyclists, so there is often times not a lot of respect for people on bikes," he says. "They're not careful looking out for people on bikes."
A white-painted, flower-adorned bicycle north of Dupont Circle reminds passersby of those dangers. It marks the place where 22-year-old District resident, Alice Swanson, was struck by a truck and killed as she rode her bike to work in a bike lane. "One thing we are taking on here, as the season kind of slows down," Harney says, "we're going to be doing some bicycle safety clinics to teach cyclists how to ride with cars, with pedestrians, and even with other bikes on the road."
For more information about SmartBike DC, visit www.smartbikedc.com. For the Bike Rack, located at 1412 Q St. NW, visit www.bikerackdc.com or call 202-387-2453.