"It's the little movie that could," says Richard Kimmel about his first feature film, Schwarzwald: The Movie You Can Dance To. Based on music and footage taken from New York's celebrated Black Party — with no spoken words, and dance music as the only sound — the film is certainly not like anything else you've seen. Kimmel calls it "the new Rocky Horror. It definitely is an interactive experience." In this case, the interactive experience is dancing. Next Saturday, Sept. 27, Town will screen the film while patrons watch — and dance.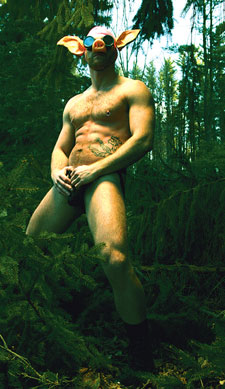 Schwarzwald
Over the past year, the film has been shown in cities around the world, from Los Angeles to Amsterdam to Montreal, mostly in conjunction with gay film festivals. D.C.'s Reel Affirmations is helping present the screening at Town, and the club will also screen that evening trailers of films featured in this year's festival, set to begin three weeks later.
Schwarzwald stems from the German-inspired "twisted Disney" theme of the 2006 Black Party. Kimmel, a noted experimental theater director, was hired to bring a crew to film the party, where cameras are traditionally shunned. The purpose was to project live video feeds of the party's sexually charged shows from various stages throughout Roseland Ballroom onto screens around the massive dance floor. "[After the event,] as we started looking at the footage and realized what we had, it meshed with this idea I've had for a long time to take music video to the next step," says Kimmel. "Could you sustain a feature-length narrative without words, only with music and images? Could you create a parallel experience, a digital experience of this 27-hour event?"
Transsexual porn star Buck Angel, that year's headline performer at the Black Party, was cast in Schwarzwald, which became an expressionist, allegorical fairy tale connecting the decades-long tradition of the Black Party, always held at the end of March to help usher in Spring, to its ancient roots in Druidic rites. This was a time when, as Kimmel notes, "men danced together with men under the stars for hours, getting into this incredible spiritual state, getting into this trance state." The film's narrative is a story about finding love and acceptance in a more advanced community.
"We tried to do a documentary on The Saint," says Stephen Pevner, director of the Saint At Large, which produces the Black Party. But with little actual footage of the venerated gay nightclub that rose and fell during the AIDS crisis of the 1980s, "it became about everybody's recollections, and it became a bit melancholy because it was a very poignant time."
Additional films "you can dance to" may be forthcoming from the Saint At Large camp, as Kimmel has taken footage from the past two years' events. But for now, he's thrilled with the attention Schwarzwald is getting. "It's such a unique thing," he says.
Schwarzwald screens next Saturday, September 27, at midnight at Town Danceboutique, 2009 8th Street NW. Cover is $12. Visit www.towndc.com.
From YouTube: 'Schwarzwald: The Black Party' (trailer)