Pearl Bailey died 18 years ago, but her irrepressible spirit has been reincarnated in the body of Roz White — and Washington is all the better for it. Bailey was a splendid showboater, a famed singer and actress whom President Nixon actually dignified the "Ambassador of Love." It's a bit of a shame her legend hasn't been sustained the way of Ella Fitzgerald or even D.C.-native Shirley Horn. It's especially sad that those of us in Washington don't know more about Bailey given her strong roots to the city. Born in Newport News, Va., Bailey spent much of her childhood in D.C., and in her later years, she earned a theology degree from Georgetown University.
MetroStage deserves praise for playing host to this world premiere production that's as charming as can be.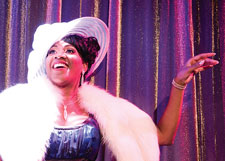 Roz White in 'Pearl Bailey… By Request'
White herself deserves much credit here, not just for having the chops to impersonate Bailey — White is a first-rate singer and performer who seduces you with her expressive alto voice and ineffable star quality. White also conceived of and helped compose the book to Pearl Bailey… By Request. Working with MetroStage Artistic Associate Thomas W. Jones II, she weaves in anecdotes and monologues from Bailey in between 15 of her songs, chosen to best amplify the story. It launches with a rendition of "Hello Dolly" — here, "Hello Pearly" — from the Jerry Herman musical for which Bailey won a Tony in an all-black revival. Later, she sings "St. Louis Blues," drawn from the 1959 movie in which she appeared alongside an all-star cast, including Nat King Cole, Eartha Kitt and Ella Fitzgerald. White is occasionally joined onstage by William Hubbard, almost stealing the show as Hot Lips Page, a singer who regularly performed with Bailey.
But while Bailey was a star of stage and screen, she especially excelled at cabaret, performing for an audience in a nightclub, a comparatively intimate setting. It's the type of performance that peaked just as she did, just before rock 'n' roll and television came along. Bailey was a flirt onstage, and her regular sexual innuendo is cute and charming today, even innocent (White refers, for example, to the skill with which Bailey's jazz drummer husband "uses his drumstick"), but it was controversial back then. A couple of her compilations were released with the title "for adults," and marked "not for airplay."
MetroStage has set up café tables in front for this show, and White as Bailey flirts with her band members, especially the guitarist David Cole, in his hot-red cowboy boots. Whether it was intentional or a factor of White's own charisma, at a show last Saturday the musicians didn't truly come alive until she came onstage. Each of them performed solo in the show's de-facto overture, but they were a little limp, not displaying the technical skill they did later, when White egged them on, each in turn. The pianist Marvin Ford, also the band's conductor, especially sprang to life under her watch.
PEARL BAILEY… BY REQUEST
To Nov. 9
MetroStage
1201 N. Royal St.
Alexandria, Va.
$35
800-494-8497
www.metrostage.org
The audience is more engaged in White's presence, too, on account of both her magnetism and her guidance. It isn't exactly audience participation, but White makes a point to interact with the audience, never forgetting they are there to see a star.
Gorgeously dressed and accessorized, White employs a light touch throughout the entire production, gingerly gliding through the Bailey songbook as well as her monologues. She improvises here and there as befits Bailey, a Jazz Era great known for her quick wit and love of music and the stage. She handles the role with such aplomb, in fact, you'll almost forget she's not Bailey. It's a remarkable feat you'll remember for a long time to come.