Jennifer Hudson says she had no particular concept in mind when developing her debut album. "I wanted it to show flexibility and versatility," she says in the album's press release. "My voice has different characters and I looked at each song as having different stories, since I'm an actress too."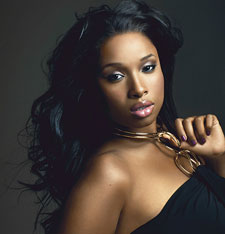 Jennifer Hudson
That lack of clear direction helps explain why her woefully uneven debut album veers from one sappy pop ballad to another sassy hip-hop jam, and from one Broadway showstopper to another gospel belter — with lots of unobjectionable R&B filler in between. It's as if the album were a soundtrack to a made-for-TV movie about a singer who finds success as an actor, but struggles valiantly — and in vain — to gain a foothold in music. Treating every song like a mini-movie doesn't a compelling, consistent album make, and trying to please everyone ends up pleasing, well, less than everyone.
Jennifer Hudson is the result of a budding, insecure artist who's as confused and unsure of herself as any American Idol finalist. It's certainly not the mark of a Dreamgirls knockout performer, confident beyond all reason. Unlike Effie White, Hudson lost before she won in the music business, and her successes so far have been confined to niche genres with limited mainstream appeal: gospel and show-tunes. It wasn't clear to anyone the best way for her to proceed. Her album's lead producer, Clive Davis, the legendary mogul, obviously thought she should mostly ignore her past and aim high, directly at the mainstream. And really, who is Hudson, only 26, to say no to the man who pioneered success for Whitney Houston and Alicia Keys, to name just two?
So the album features her Dreamgirls anthem and a gospel-stirrer, but both are tacked on as the last tracks on the album, intended either as afterthoughts or as bonus tracks, not the main attraction. The focus is on thoroughly contemporary cuts, made with the biggest and best hitmakers money can buy. Over-processed schmaltz? Check. Both the schmaltzy pioneer Diane Warren and today's most upstart purveyor Robin Thicke churn out the saccharine on two different tracks here. And then there's T-Pain ruining the emotion of "What's Wrong (Go Away)" with his over-processed, auto-tuned vocals.
The problem with this approach is apparent from the get-go: First single "Spotlight" lacks the passion it should have, given its subject matter and given our admittedly too-high expectations. Somehow "Spotlight" fails to ignite. Meanwhile, her duet with fellow Idol-ette Fantasia, "I'm His Only Woman," doesn't do either of them any favors. Fantasia screams her way toward making peace with herself and her beloved's true boo, while Hudson overacts in response, letting Fantasia's melodrama get the best of them both.
JENNIFER HUDSON
Jennifer Hudson
Arista Records
$18.98

What's ultimately most disheartening about Jennifer Hudson is the fact that it's not at all the album Hudson herself whetted our appetite with. Last fall, Hudson told reporters she would create an album little like anything else on the market. She was also reportedly working with one of Amy Winehouse's key producers. And then, just this summer came "All Dressed in Love," just the kind of neo-soul gem we were hoping for from Hudson. But neither that Sex and the City song nor any other quite like it surfaces on the album.
Still, there are plenty reasons to be confident that Hudson's musical future will be as bright as her acting career has been. As she proves here, she can strike gold with edgy songs as current as they come, if they reflect her own reality – and if they're a bit playful and sassy. "Don't make me hit you with my pocketbook," Hudson responds to one overly eager suitor – hilariously played by Ludacris – on the Timbaland-produced jaunt "Pocketbook." Then there's the Polow da Don-produced "My Heart," with Hudson cautioning her lover – perhaps even her real-life fiance – to be gentle with her. "I'm talking about trust, I'm talking about truth, I'm talking about me, and what I'm giving you," she sings in a jerky, slightly ominous pattern. Too bad she didn't give us more of this to start with, but the future can only get better.
---
SOLANGE KNOWLES
Sol-Angel and the Hadley St. Dreams
Geffen Records
$9.98

Jennifer Hudson and her handlers should have taken a page from Solange Knowles, the little sister of you-know-who. Her debut album from a few years ago suffered under the weight of too many cooks in the kitchen, what she candidly admits was "a melting pot of different genres and sounds," with top-notch producers who didn't help her "find one sound of my own." She acknowledges all that in the press release attached to her winsome album, Sol-Angel and the Hadley St. Dreams, released at the end of summer. It's a glorious retro-soul throwback that draws far more modern-day inspiration from Amy Winehouse than Beyonce. Sol-Angel… is a far more inspired set than most anything else you'll hear this year.
The album starts out in a dreamy state, with production from D.C.'s own Thievery Corporation and backup soul singers cooing sweetly. It's a dream from there on to almost the end, with only a few songs that could use a little extra "la-la-la" polish. Knowles ends that first track, "God Given Name," her declaration of independence from both her past output and her sister, saying, "I sound high, don't I?" She then laughs, and shouts, "I promise I'm not high!" Maybe not, but she makes you feel high, in any case. Toward the end of the album comes the blissful electronic anthem "Cosmic Journey," a duet with Bilal. Knowles repeatedly coos, "I love you I swear," until the song builds to a fever pitch. She then shifts to repeatedly shouting, "I wanna go high!" Music this distinctive and delicious will have that effect on you.
From YouTube: Jennifer Hudson: "Spotlight"
From YouTube: Solange Knowles: "I Decided"