Despite the fevered grace renowned soprano Renee Fleming brings to the conflicted femme fatale of Donizetti's Lucrezia Borgia, this is one opera that requires more than just a star turn in the title role. With a narrative that offers a Lucrezia who is by turns a loving absentee mother and the equivalent of a 16th century serial killer, any director has their work cut out for them.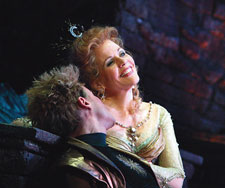 Evil Woman: Fleming
Unfortunately, director John Pascoe, who gave us last season's fabulously conceived Don Giovanni, seems more interested in innovation than cohesion this time around — and the resulting production needs less of the former and more of the latter.
Perhaps the problem begins with Pascoe's concept of Lucrezia as a product, indeed a victim, of the deeply violent patriarchy into which she has been born (Lucrezia is a real historical figure). As likely as this may have been, the ramifications are just not that apparent in Donizetti's work nor does Pascoe's interpretation inject it. Lucrezia is certainly a volatile woman, but what drives the side of her that is capable of killing, a most fascinating question, is never explored. The disparity between the Lucrezia who loves so tenderly a son she never raised and her ability to "go postal" on a moment's notice is never reconciled. It's a dramatic problem with the opera left unsolved by Pascoe. Unfortunately, if we cannot understand Lucrezia, at least on some level, we cannot feel her pain.
And, at least superficially, the story offers plenty of potential for pathos. We join Lucrezia after she has secretly found and begun to follow her (now adult) illegitimate son whom she abandoned so long ago. Gennaro, unaware that Lucrezia is his mother, enters her Court with a band of men seeking revenge for her murder of their compatriots. Things go horribly wrong when Lucrezia and her husband, the Duke Alfonso, detect the plot and begin flushing out the malcontents with their usual murderous aplomb. When Lucrezia discovers that her long-lost son has been caught up in the ruthless Borgia net, she does everything she can to free him. It works once but not twice.
But because we have never quite bonded with this Lucrezia, it is not easy to share her final agony, nor the "live by the sword" message (one must only compare this production to last season's blood-soaked Elektra to see the disconnect). And yet it is hard to fault Fleming, who delivers a memorable, palpable Lucrezia that vibrates the very air around her with dark energy. Though occasionally breathy, Fleming emotes powerfully through this bel canto role, using Donizetti's vocal ornamentation most effectively with her high sweet tones, but also savoring the poignancy of her earthier lower notes. She is a strongly instinctive actor creating an immediate and lasting impression of this high-impact woman. And yet what we do not have is that one aria in which she tells us who she really is.
Playing it larger-than-life in the role of Gennaro is the promising tenor Vittorio Grigolo. A little louder then he needs to be and a little less technically careful than he should be, Grigolo nevertheless pleasingly achieves that magical balance between virility and vulnerability. He is also a more nuanced actor than one might expect, giving us the passionate man who still holds the dreamy boy within.
As Maffio, Gennaro's dearest friend, mezzo-soprano Kate Aldrich takes the trouser role and gives her young man a genuine believability and charm. Aldrich's lovely, measured, rich tone is a gorgeous counterpoint to Fleming's intensity, and one hopes that this debut is the start of many roles with the WNO. Duke Alfonso, sung with smooth authority by the bass Ruggero Raimondi, shows us a brute capable of universal ruthlessness whether it be toward his wife or his arch enemies. Perhaps he comes the closest to showing us the conflicted world in which Lucrezia lives.
LUCREZIA BORGIA
Nov. 7, 9, 11
15 and 17
Kennedy Center
Opera House
$48-$250
202-295-2400
www.dc-opera.org
As with Giovanni, Pascoe has designed the costumes and he again approaches superhero with landing-pad shoulders, flex-tube arms and occasional forays into a kind of shininess that hadn't been invented in the 16th century. Though there is nothing wrong with a bit of artistic expression, in an opera this emotionally intense, it distracts.
Finally, I must also take issue with Pascoe's choice to turn Gennaro and Maffio from deeply platonic to winsomely gay. It is a true break in what fiction has been achieved here and it leaves us with the double distraction of comparing the libretto to the action and the lusty groping by Grigolo of a female cast member. Again: with so little psychic energy available to describe Lucrezia — our deadly serious heroine — could Pascoe really afford this tongue-in-cheek folly?