On election night, Nov. 4, Steven Kensinger and Zack Pesavento were just like so many other Washingtonians who poured out onto District streets to celebrate the news that Barack Obama had been declared winner of the presidential contest. What set them apart as they joined the throngs marching to the White House was their flag: stars and stripes for America, rainbow colors for the GLBT community.
Among the crowds, their festive flag generated plenty of positive response, prompting photo requests and high-fives. Leaving the rally, they faced a different reaction. Walking north on 16th Street NW, a stranger grabbed their flag and ran off. Catching up to the stranger in an effort to retrieve their flag, they say he then hit and choked Kensinger.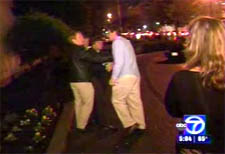 Kensinger and Pesavento (left) during an attack caught on camera by WJLA
"He was really aggressive and was not going to let up," says Kensinger. Footage of the attack was caught on tape by ABC News cameras and the Metropolitan Police Department (MPD) responded, charging the alleged assailant with simple assault. The couple, both 22, say they will press charges.
But this is just the latest — and perhaps mildest — in a recent string of attacks against members of the gay community that have rekindled the dormant organization Gays and Lesbians Opposing Violence (GLOV), which was active through the 1990s. This new effort, coming on the heels of the fatal attack against one member of the community, Tony Randolph Hunter, Sept. 7, and the brutal beating of another, Todd Metrokin, July 13, is going to hold its first fundraising event Sunday, Nov. 16, at Be Bar, 1318 Ninth St. NW, from 5 to 9 p.m. The site is particularly poignant, as Be Bar was Hunter's intended destination when he was attacked about a block from the lounge.
"We are raising money so that we can start some of our initiatives," says Metrokin, GLOV co-chair. Those initiatives, he says, include efforts to ensure that "GLBT victims are treated with as much dignity as possible."
GLOV promoted that mission when it was in operation in the '90s, dealing with cases like that of Tyra Hunter's. She was a transgender woman involved in a car crash, who died after rescue workers replaced medical treatment with derogatory comments upon discovering Hunter had male genitalia."What GLOV originally did was seek out the roots of those problems within the community, trying to work with school and youth groups … and then working with the Police Department, Fire Department and emergency personnel to get sensitivity training," Metrokin says. "What we're trying to do, now that sensitivity training is a standard part of the practice, is to make sure that sensitivity training continues … and also watch these cases as they progress."
Members of the community will remember Hunter and other transgender victims with a candlelight vigil marking the Ninth Annual Transgender Day of Remembrance, at 6:30 p.m., on Thursday, Nov. 20, at the Metropolitan Community Church of Washington, D.C., 474 Ridge St. NW.
Brian Watson, director of programs at Transgender Health Empowerment (THE) and president of the D.C. Coalition of Black of LGBT Men and Women, says organizers of this year's event, which includes THE, will also give attention to gay, lesbian and bisexual people "who have been victims of hate crimes, just because there's been a lot going on."
"I think we get to a certain point sometimes were we get a little comfortable and don't think these things are happening, but they are happening all the time," Watson says. "We need to remember people who have been attacked, who have been killed due to discrimination. These are people who lost their lives to hate."
MPD Acting Lt. Brett Parson, who is gay and who heads MPD's special liaison units, including the Gay and Lesbian Liaison Unit, says he'll be attending the Transgender Day of Remembrance, having recently returned form a four-day training seminar in Wales.
"I met with [police] leaders, discussing how they do things, and then sharing with them how we do them in the United States," Parson says. "The reason I was invited was to [talk about] the GLLU. It was just a really great experience."